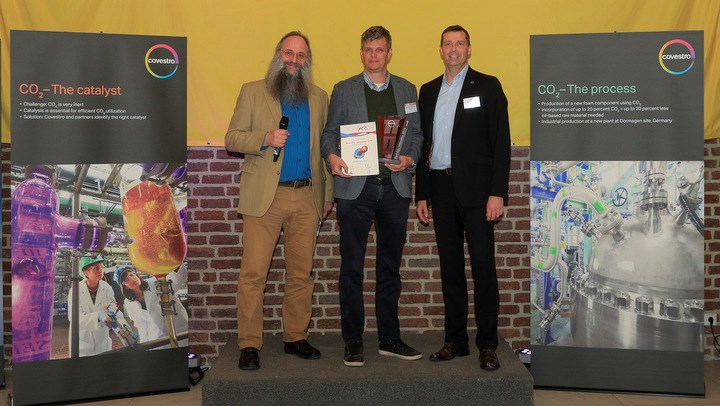 nova, PvP
A CARBON-NEGATIVE form of concrete has won an inaugural prize that recognises the potential of using carbon dioxide as an industrial feedstock.
Carbicrete won the Best CO2 Utilisation prize for its process that produces cement-free, carbon-negative concrete. Ground steel slag, a byproduct of steel production, is used instead of cement, and the concrete is cured with CO2 instead of heat and steam. The company says that for each standard 18 kg concrete block produced using its process, it saves 2 kg of CO2  by avoiding the production of cement and locks up a further 1 kg of CO2 in the product itself during curing.
In 2018, Carbicrete won a C$2.1m (US$1.57m) grant from Sustainable Development Technology Canada to build a production facility at an existing concrete plant and reach commercial production by mid-2021.
The award has been given by Germany's nova-Institute, a research consultancy focussed on the bio- and CO2-based economy. It shortlisted six winners and then asked 200 experts gathered at the 7th Conference on Carbon Dioxide as Feedstock for Fuels, Chemistry and Polymers to pick the winner.
Speaking on the sidelines of the event in March, nova-Institute Managing Director Michael Carus said: "When we are looking for all the wonderful products around made from chemical industry and the polymer and plastic industry, then they basically need carbon. So, in the future they cannot use any more of the fossil carbon…they have to move to other carbon sources."  
Chemicals major Covestro sponsored the award. The company began producing plastics with CO2 captured from its operations in 2016. It uses CO2 to replace around 20% of the oil-derived propylene oxide conventionally used to produce polyols – a precursor in the production of polyurethane foams.
Speaking at the awards ceremony, Covestro CEO Markus Steilemann said: "I think the chemical industry in principle can run without fossil fuels, and that's the vision".
He said Covestro wants to increase the range of raw materials available for production and CO2 offers a potential alternative.
"At the end of the day, I think it Is good to look into the future and also put your money where your mouth is, that means recognise people and award people who make great progress in this field."
Second prize was awarded to Nordic Blue Crude for using electrolysis to split water, direct air capture of CO2, and Fischer-Tropsch to produce synthetic crude.
Third prize was given to b.fab, a startup that wants to convert CO2 and hydrogen into liquid formate and then use synthetic biology to create organisms that will convert the formate into chemicals.