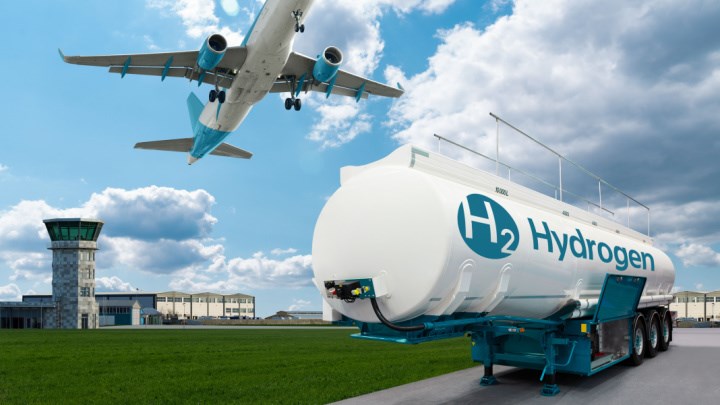 THE National Composites Centre (NCC) has announced a UK-based test programme to assist the aerospace, transport and energy industries accelerate design, manufacture, and test composite cryogenic storage tanks. The initial testing will involve a linerless carbon fibre tank designed to store liquid hydrogen (LH2). 
LH2 has been the fuel of choice for space exploration for years, because of its high energy concentration: 1 kg of hydrogen contains 3 times more energy than 1 kg of gasoline. However, the composite tanks that are used tend to be suited only to low cycle, single use applications. 
But with commercial aircrafts starting to transition to hydrogen, fuel tanks will need to be filled and emptied numerous times. They will also need to last for several decades and be as light as possible – a far cry from the heavy, metallic tanks which are most commonly used for LH2 storage.  
Due to the incredibly low temperature needed to keep hydrogen in a liquid state, -253°C, LH2 needs to be kept cryogenically stored. Metals offer the combination of strength and corrosion resistance to avoid brittle fractures, if the metal is ductile enough, so historically it has been considered an extremely safe and durable material for storing LH2. 
Designing lightweight composite tanks that can withstand the freezing temperature is just one factor to consider. Tanks must also be capable of resisting pressure and flight loads, and able to fit the limited, sometimes awkwardly shaped interior volumes available. Composites can offer a competitive solution but so far there has been little in the way of clear existing industry standards, the NCC said.  
By analysing a range of designs, the NCC's team of specialist engineers have since created and built a range of comprehensive cryogenic concepting and design tools covering tank design space exploration, permeability, microcracking, thermal and mechanical stresses.  
"These tools form a baseline toolset that can be used by industry for cryogenic tank projects, enabling detailed design and manufacturing risk identification and analysis. Understanding cryogenics at this fundamental level will enable the NCC to support a wide range of industries and applications, each facing separate but overlapping challenges," the NCC said. 
For testing – a crucial element of tank design – the NCC has partnered with Filton Systems Engineering to provide a LH2 vacuum test chamber and cryo-rated testing instrumentation.  
The NCC said that as part of the liquid hydrogen testing programme, it has already designed and manufactured five linerless carbon fibre demonstrator tanks, using a mix of automated fibre placement (AFP), tape winding, and hand lay-up composite processes. Results from the tests are expected later this summer. 
Daniel Galpin, advanced research engineer at NCC said: "The cross-sector capability we've developed will enable UK industry to accelerate and advance engineering expertise in composite cryogenic storage, and secure future commercial competitiveness. Our comprehensive programme will enable us to support customers on their journey to design, validate, manufacture, and test high-cycle composite cryogenic tanks." 
Customised tank design
NCC said its tool to allow customers to optimise the design of their hydrogen cryogenic tanks was successfully trialled as part of the Aerospace Technology Institute FlyZero programme. The design tool works with key parameters such as hydrogen mass, boil off rate, and dormancy, which is the amount of time from the refuelling of a tank to the need to vent a gas pressure build-up, if the aircraft was stationary overnight. 
Although now completed, the FlyZero programme, which aimed to realise zero carbon emission commercial aviation by 2030, concluded that green liquid hydrogen is the most viable zero-carbon emission fuel, with the potential to scale to larger aircrafts via fuel cell, gas turbine, and hybrid systems.