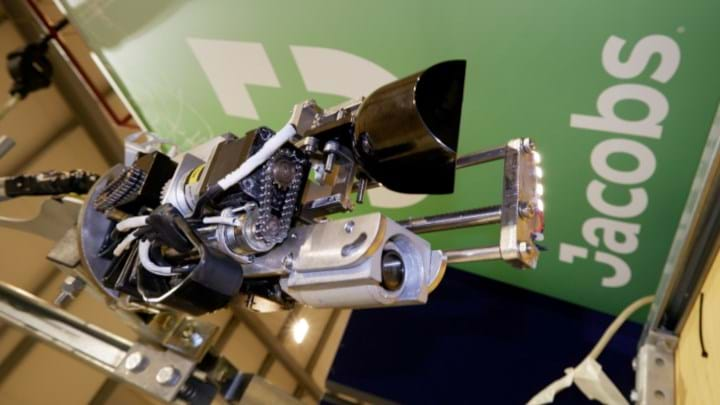 Jacobs
ENGINEERING group Jacobs has designed and built a remotely-operated robot to collect debris at the Fukushima nuclear power plant in Japan, to assess the state of a damaged reactor at the facility.  
Now rendered inoperable following its catastrophic meltdown in March 2011 due to an earthquake and tsunami, Jacobs is assisting the Tokyo Electric Power Company (Tepco) to assess the power plant's readiness for decommissioning under a five-year framework agreement. 
As part of the agreement, Jacobs' engineers in the UK have created a robotic tool to collect pebble-like debris that was deposited at the bottom of the reactor containment vessel following the accident. 
The debris comes from fuel and the metal cladding that formed the outer jacket of the fuel rods in Fukushima Daiichi units 1 to 3 – the worst hit in the incident. These then re-solidified as fuel debris. 
To reduce the risk to personnel from this fuel debris, the robot will collect it from the reactors. Debris up to 10 mm in size can be collected by the robot in the damaged containment vessel with a bucket-style retrieval device.  
In readiness of the test, the robot has recently passed 300 extremely demanding functional, operational, performance and geometric tests to meet the requirements of Mitsubishi Heavy Industries (MHI), which is working with the International Research Institute for Nuclear Decommissioning to implement the project.
Trials have shown that no more than eight minutes are needed to collect the samples and it is expected that, following selection in Japan, a radiation-resistant version of the robot will be built to perform the task.  
The retrieved fuel debris will then be stored in the new storage facility that will be constructed within the site. 
Jacobs Energy, Security & Technology Senior Vice President Karen Wiemelt said: "This is a prime example of how we are combining innovative engineering and deep nuclear knowledge to help decommissioning agencies meet the challenge of transforming legacy sites into a safe end state". 
Last year Tepco announced that the Japanese Government would allow the firm to discharge treated wastewater stored at the Fukushima Daiichi nuclear site into the sea, starting in 2023. 
Despite concerns from environmentalists and human rights proponents, industry welcomed the announcement.