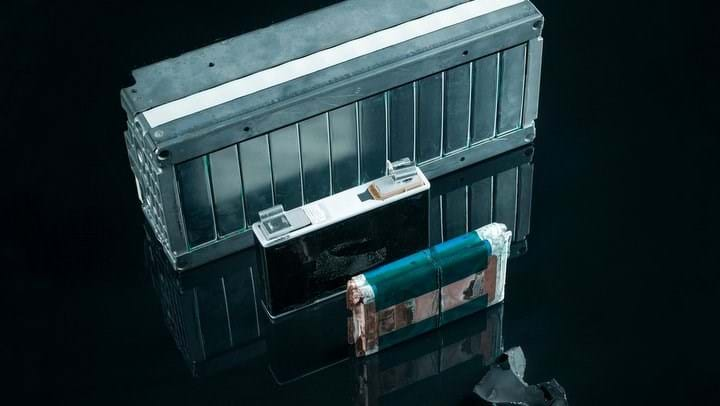 Fortum
A PARTNERSHIP between Nordic clean energy company Fortum, and Finnish speciality recycling company Crisolteq will make over 80% of an electric vehicle (EV) battery recyclable.
According to the International Energy Agency, electric vehicle numbers will increase from 3m globally in 2017 to 125m by 2030, making it crucial to have efficient recycling processes for the batteries. The current recycling rate for EV batteries is around 50%, but a new process by Fortum and Crisolteq will increase this to 80%.
The batteries are first made safe for mechanical treatment by Fortum, and the plastics, aluminium, and copper are separated and recycled in their own processes.
Fortum has announced that it will be able to recycle over 80% of an EV battery, putting the metals back into circulation and reducing the need to mine cobalt, nickel, and other scarce metals. The remaining material, known as "black mass" is a mixture of lithium, manganese, and cobalt, and is then set for chemical processing at Crisolteq's facility in Harjavalta, Finland. Crisolteq has developed a low-CO2 hydrometallurgical recycling process which is already operating on an industrial scale.
"Crisolteq has for several years developed technologies and capabilities to recover metals from industrial side-streams," said Kenneth Ekman, CEO of Crisolteq. "Our partnership allows us to expand the use of this knowledge to process the black mass and recover metals for new batteries."
The recovered metals can be sent to battery manufacturers for use in new batteries, reducing the need to mine for these scarce metals.
"Circular economy in its strictest sense means recycling an element to its original function or purpose," said Kalle Saarimaa, Vice President, Fortum Recycling and Waste. "When we discuss the recycling of lithium-ion batteries, the ultimate aim is for the majority of the battery's components to be recycled to new batteries."
"There are very few working, economically-viable technologies for recycling the majority of materials in lithium-ion batteries. We saw a challenge that was not yet solved and developed a scalable recycling solution for all industries using batteries."
Fortum is also piloting "second-life" applications for EV batteries that are no longer fit for their original purpose by using them for stationary energy storage.