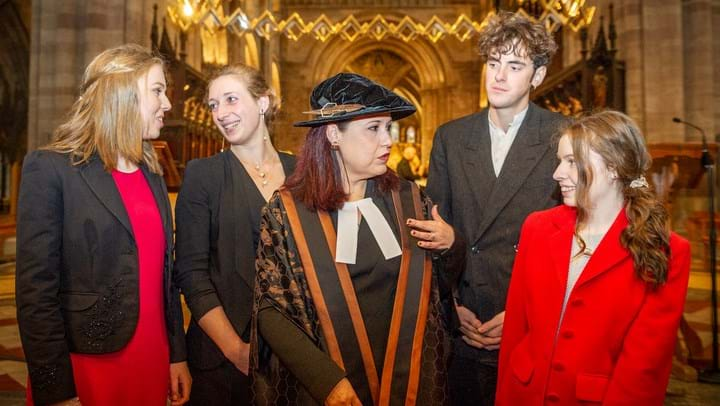 NMiTE
THE New Model in Technology & Engineering (NMiTE), a future engineering university, has been inaugurated in a ceremony at Hereford Cathedral, UK.
NMiTE is the first of new higher education "challengers" that the government has been encouraging. It is estimated that Britain has an annual shortfall of 22,000 engineering graduates and it is hoped that NMiTE will help to solve this problem through a new approach to teaching. There will be a strong focus on learning by doing, and engagement with industry by solving problems provided by industry partners. Only one course will be taught at a time to enable students avoid multi-tasking with competing subjects. Teaching will take place throughout the calendar year allowing students increased flexibility and the possibility of fast-track education.
The inauguration ceremony took place on 19 October, with a combined academic and civic procession. The ceremony included the unveiling of NMiTE's academic robes. The robes have been designed in a collaboration with textile design students at Hereford College of Arts. Attendees at the ceremony included faculty and management of NMiTE, MPs, local business leaders, and members of the design cohort of gap-year and postgraduate students who helped to design the university.
Elena Rodriguez-Falcon, NMiTE's acting CEO and provost, said: "NMiTE is developing the world's most radical learning environment for engineering students so we can deliver creative, confident, work-ready problem-solvers, with the qualities to become the country's top engineers and industrial innovators."
"We are revolutionising engineering education by combining the most successful ways to learn from around the world into a new, bold and inspiring approach. Our fast-track programme will deliver high value and an engineering education like no other. Learning is centred around students solving practical engineering challenges, including their commercial aspects too, by working entirely on real-world problems provided by UK employers."
The purpose-built campus in Hereford's city centre will see its first students in September 2019. It intends to be educating 5,000 students by 2032.