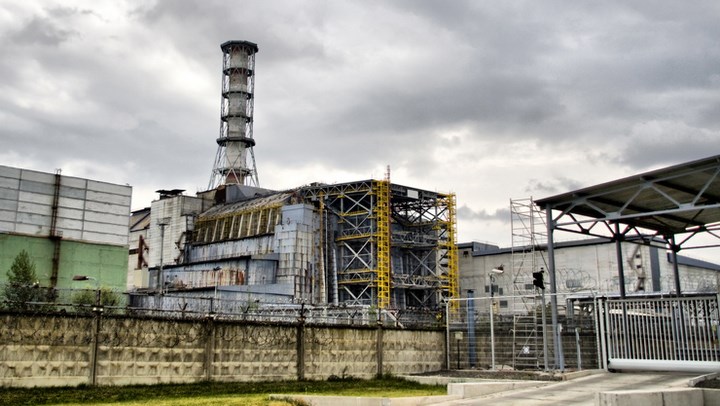 ON 6 May the final system-wide trials of a new dry storage facility at Chernobyl began. ISF2, located at the site of the Chernobyl nuclear power plant, will process and store spent nuclear fuel to allow for decommissioning of the plant.
The 1986 disaster which occurred at Chernobyl nuclear power plant killed two people on the night of the accident and a further 28 from acute radiation poisoning. The disaster also wrecked the unit 4 reactor of the plant. A further 19 worker deaths occurred between 1987 and 2004, which cannot necessarily be attributed to radiation exposure.
"Dismembering more than 21,000 RBMK spent fuel assemblies in a special purpose "hot cell" [shielded nuclear radiation containment chamber], packaging those fuel assemblies in double walled canisters, and transferring them from (open) water-cooled pools into hermetically sealed rugged helium-filled storage systems inside ventilated modules will mark a huge safety milestone for Ukraine," said Holtec International, the diversified energy company responsible for the project. RBMK is a nuclear reactor type developed by the Soviet Union.
Units 1, 2, and 3 of the Chernobyl plant were important for Ukraine's electricity needs and continued to operate for some years before shutting down in 1996, 1991, and 2000 respectively, reported World Nuclear News (WNN). The last damaged spent fuel assembly from units 1-3 was removed from the cooling pool of unit 1 in 2016 and transferred to an interim wet storage facility, ISF1, says WNN. 1SF2 is to accept used fuel from ISF1 and store it on site for 100 years, the news service added. According to Holtec, transfer will be expedited.
Holtec said it would complete "stem-to-stern" functional demonstrations of spent fuel handling and storage processes over the next two months. Following the demonstrations, the facility will be handed over to Ukraine's state-owned enterprise Chernobyl Nuclear Power Plant (ChNPP), which will initiate commissioning.
WNN reported that the Chenobyl nuclear power plant entered decommissioning last year after gaining approval from Ukraine's State Nuclear Regulatory Inspectorate. According to the news service, the first stage of decommissioning – the so-called final shutdown and preservation stage – is expected to take ten years.
The ISF2 project began in the 1990s but stalled for nearly a decade when the previous contractors' technology proved to be "inadequate to meet the facility's functional and regulatory requirements". Holtec was awarded the project contract in 2011.
Principal contactors on the ISF2 project are UTEM, BNG, and Maloni, reports WNN. It is funded by a group of Western countries and Japan, and administered by the European Bank for Reconstruction and Development (EBRD).
Michael Pence, ISF2 Project Manager at Holtec, said: "We were handed a facility full of defective equipment that had deteriorated for lack of any maintenance for nearly a decade."
"Through the sheer commitment of our team and partners, this project, which looked nearly impossible given the poor condition of the building, shabby documentation and old equipment, with little or no hope of available replacement parts, has now reached the milestone we celebrate today."
In partnership with Energoatom, Holtec is also constructing the Central Spent Fuel Storage Facility (CSFSF), which will receive and store spent nuclear fuel assemblies from Ukraine's pressurised water reactors (VVERs). The facility will mean Ukraine will no longer have to spend US$200m/y to store nuclear fuel in Russia, says WNN. Full operation is expected in 2020.