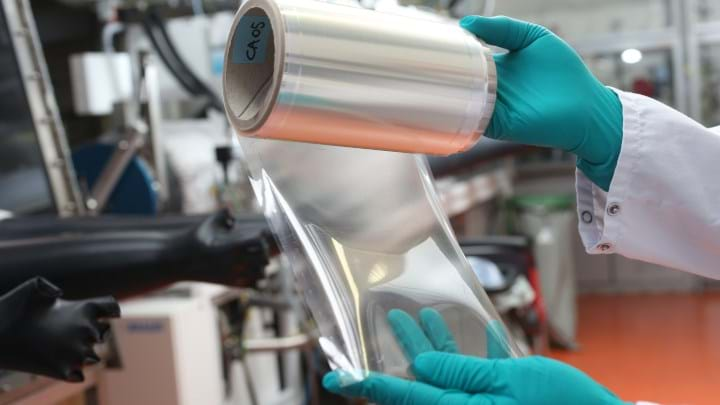 Evonik
EVONIK has developed a novel anion exchange membrane (AEM) that could contribute to commercial realisation of hydrogen production via electrolysis. The development comes as part of an EU-funded project aiming to achieve cost-effective hydrogen production.
'Green' hydrogen could contribute to the energy transition, offering a carbon-free fuel for industry and transportation as well as a raw material for chemical industry. Hydrogen is receiving widescale attention as an alternative energy carrier. Green hydrogen is produced by splitting water into hydrogen and oxygen – electrolysis – using electricity generated from renewable resources.
Currently, producing green hydrogen is more expensive than typical production, which relies on fossil fuels and produces carbon dioxide. According to Evonik, the key factors involved achieving cost-efficient green hydrogen production are low-cost electricity generated from renewables and electrolyser investment.
Evonik says ion-conducting membranes are a central component in electrolysers, that  have  a major influence on efficiency and reliability. The specialty chemicals company has now developed a membrane which could enable commercial realisation of highly efficient and economically viable electrolysis, said Oliver Conradi, responsible for membrane research at Evonik's strategic innovation unit Creavis.
The use of an anion exchange membrane offers advantages compared to other electrolytic processes, such as conventional alkaline electrolysis using diaphragms (AEL) or the more recent method of proton exchange membrane electrolysis (PEM). According to Evonik, the fundamental idea behind AEM is to combine the advantages of these established technologies while compensating for their drawbacks to reduce investment costs and therefore overall green hydrogen production costs.
Advantages over AEL are high current density, very good efficiency, and high flexibility. Additionally, AEM reduces investment costs compared to PEM which is highly dependent on raw materials such as precious metals, and cheaper materials can be used. This is because electrolysis is carried out in alkaline conditions.
Furthermore, the novel membrane comprises a resistant polymer with "excellent" conductivity. "The polymer chemistry behind this membrane is the key to efficient electrolysis. And we now hold that key," said Conradi.
Evonik's novel membrane comes as part of the CHANNEL project, which aims to achieve cost-efficient hydrogen production via anion exchange membrane electrolysis. The project involves a consortium from industry and research that will plan, construct, and test an AEM electrolysis system based on new membranes developed by Evonik. The consortium covers the entire green hydrogen value chain, with partners including Shell, acting as the hydrogen user; electrolyser manufacturer Enapter, which will act as plant engineer for the electrolyser; and researcher organisations.
The project, which started in January, will run for three years and will receive about €2m (US$2.3m) in funding form the European Union's Horizon 2020 research programme.