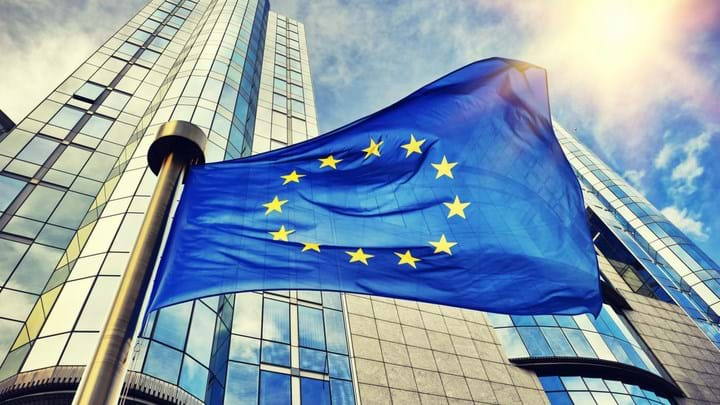 The European Commission (EC) has selected seven large-scale clean-tech projects for funding that will bring "breakthrough" technologies to energy-intensive industries. This includes what is claimed to be the world's largest cross-border CCS value chain.
Funding will be through the EC's Innovation Fund, one of the world's largest funding programmes for demonstrating low-carbon technologies, which will provide around €25bn (US$28.42bn) in support during 2020–2030, depending on carbon price. The selected projects will be awarded as part of a first call for large-scale projects, offering a total of €1bn.
The funding recipients cover a wide range of sectors relevant to decarbonising European industry and energy including chemicals, steel, cement, refineries, and power and heat.
Air Liquide and BASF are among the recipients, with funding going towards developing what they claim will be the world's largest cross-border carbon capture and storage (CCS) value chain. It is expected to prevent 14.2m t of CO2 emissions over the first ten years of operation. The Kairos@C project is expected to kickstart Antwerp@C, which is developing multimodal infrastructure for CO2 at the Port of Antwerp in Belgium, and expected to halve CO2 emissions from the port by 2030. Air Liquide and BASF are founding members.
Kairos@C will be jointly developed by the companies at BASF's Antwerp chemical site. It is expected to be operational by 2025.
The Hybrit initiative, which is working to develop fossil-free steel, will use the funding for a demonstration that replaces coal-based blast furnaces with direct hydrogen-based reduction technology. The initiative includes steel company SSAB, international mining and minerals company LKAB, and heat and electricity company Vattenfall.
The project will establish a first-of-its-kind hydrogen-based direct reduction facility and 500 MW fossil-free electrolysis in Gällivare, Sweden. Two blast furnaces in Oxelösund, Sweden will be replaced with electric furnaces.
Hybrit will demonstrate a complete industrial value chain for hydrogen-based iron and steelmaking. The project will produce about 1.2m t/y of crude steel, representing 25% of Sweden's production, and reduce CO2 emissions by 14.3m t over the first ten years of operation. Moreover, the project is expected to show the viability of technologies needed to melt hydrogen-reduced iron into crude steel, leading the way to a full energy transition of ore-based steel production as access to renewable energy increases. 
Joint-venture Ecoplanta Molecular Recycling Solutions was selected with funding going towards its Ecoplanta project, which aims to convert non-recyclable municipal solid waste (MSW) into chemicals and biofuels. The JV was initiated between waste-to-chemicals company Enerkem and Agbar, a water and natural resource management company. Energy company Repsol joined the initiative earlier this year.
The project will produce 237,000 t/y of methanol in a facility at a petrochemical complex near port of Tarragona, Spain, recovering 70% of carbon from MSW and reducing emissions by 3.5m t of CO2eq in the first decade of operation. By displacing fossil fuels in chemical production with methanol from waste that would otherwise end up in landfill, the project could offer a pathway for industry to drastically cut emissions in power generation, overland transportation, shipping, and chemicals.
Also selected was energy company Stockholm Exergi for a bioenergy carbon capture and storage (BECCS) facility at its existing heat and power biomass plant in Stockholm, Sweden. The project, BECCS@STHLM, will combine CO2 capture with heat recovery to increase efficiency. It will capture and store large quantities of biogenic CO2 and has the potential to avoid 7.8m t of CO2 over the first 10 years of operation.
While aiding carbon neutrality, the project will also promote a market for negative emissions and contribute to establishing necessary links for a CCS value chain in Europe, including CO2 transport by ship to Norway. It will create direct jobs locally, and be a springboard for many green jobs throughout the technical and commercial parts of the value chain outside Stockholm and Sweden.
Led by building materials company Eqiom, the K6 Program is expected to reduce CO2 emissions implementing a range of technological initiatives and innovations at its Lumbres, France cement plant. Air Liquide is also participating in the project.
The project aims to maximise use of biomass-containing fuels, and other alternatives, to take advantage of already decarbonated raw materials. It will also see wet kilns replaced with a novel, industrial-scale combination of oxyfuel kiln with carbon capture, capturing more than 90% of the remaining CO2. Captured CO2 will be transported and stored in the North Sea, or used to create concrete, preventing 8.1m t of CO2eq over the first decade. Integration of the project within the nearby port of Dunkirk is expected to foster development of the port as a future European CO2 hub.
Neste's selected project Sustainable Hydrogen and Recovery of Carbon (SHARC) will reduce emissions at its Porvoo refinery in Finland, by shifting from grey hydrogen production to green hydrogen made via electrolysis, and blue hydrogen made using CCS. Green hydrogen production will rely on a novel water electrolysis technology applied by SHARC, with capacity of 50 MW. Hydrogen is essential in transportation fuel production processes, and the blue and green hydrogen will reduce the carbon intensity of fuels produced at the site. SHARC will also scale green hydrogen production to help make it a viable transportation fuel alone.
The shift is expected to save more than 4m t of CO2 emissions in the first decade of operation. The electrolysis technology along with the use of CCS will maximise the environmental impact and development of a strong supply chain from the refinery and lay the foundation for a European hub for renewable hydrogen and CO2 use.
Green energy company Enel Green Power will use the funding for its Tango project, which is to develop an industrial-scale pilot line to manufacture innovative and high-quality bifacial heterojunction photovoltaic (PV) cells. These enable higher performance with respect to conventional models, and maximise energy production while minimising cost. The project will scale production of PV modules from 200 MW/y to 3 GW/y at a factory in Catania, Italy. Using the modules will avoid up to 21m t of CO2 over the first ten years.
The projects will receive funding in Q1 of 2022.
Fifteen rejected projects which met minimum requirements and with the strongest potential to improve their maturity were offered project development assistance (PDA) by the European Investment Bank. This support, provided as tailor-made technical assistance, aims to advance financial, technical, or operational maturity with a view of potential resubmission under a future Innovation Fund call. The PDA had a grant budget of €8m.
The EC launched a second call for large-scale project applications on 26 October, offering a total of €1.5bn in funding. Both resubmissions and new submissions are welcome.
The call will close on 3 March 2022.