SIEMENS Energy is leading a consortium that is developing a £3.5m (US$4.3m) ammonia cracker prototype in Newcastle, UK, that will produce green hydrogen at industrial scale and help to tackle climate change.
The UK Government expects that by 2050, 20–35% of the nation's energy consumption will be hydrogen based. Unfortunately, there are challenges related to hydrogen storage and transport that need to be addressed to make this viable. Ammonia can help tackle these challenges, and emissions can be avoided by using green ammonia to produce green hydrogen via the Haber-Bosch process powered by renewable energy.
Ammonia has a high hydrogen density and can be readily transported in bulk. It can be used to store large amounts of hydrogen in liquid form and can rely on existing global supply chain infrastructure.
The consortium's ammonia cracker prototype will deliver 200 kg of green hydrogen. Using Fortescue Future Industries' (FFI's) metal membrane technology (MMT) purification process, this will be high-quality hydrogen that can be delivered at the point of use. MMT selectively filters hydrogen, allowing it to be used as fuel and converted as needed, at the time of refuelling. It was developed by green energy company and project partner FFI, and Australia's national science agency CSIRO.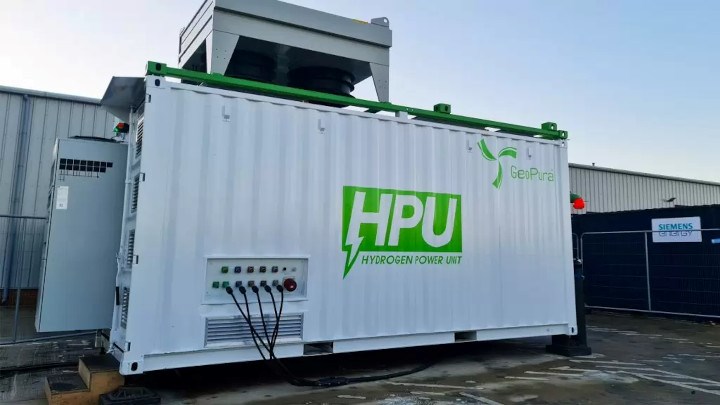 GeoPura
Hydrogen supply will be focussed on mobility and off-grid power. Consortium partner GeoPura, a zero-emissions fuel technology company, will use the high-quality hydrogen to supply its hydrogen power units (HPUs), which can replace heavy polluting diesel generators as an off-grid solution to provide zero emission power to a wide range of industries. This includes TV production such as Netflix and the BBC's Winterwatch, and construction projects including HS2.
As well as off-taking hydrogen to use in its fuel cell power generation technology, GeoPura will also provide on-site management. Siemens and FFI will provide engineering expertise and technical solutions. National funding agency Innovate UK is also involved in the partnership.
The ammonia system will enable hydrogen production at scale, wherever and whenever it is needed. It can be scaled up for future markets, including industry, heat, and grid scale power generation.
Steve Scrimshaw, VP at Siemens Energy UK & Ireland and a member of the UK Government's Hydrogen Advisory Council, said: "We have just 13 years to deliver a net-zero electricity grid for the UK. Time is running out and we can't do this alone. This innovative green ammonia cracker could be a game-changer for scaling up the green hydrogen industry – an important step to drive the energy transition."
Mark Hutchinson, CEO of FFI, said: "The research and development of technology like this is key to the success of green hydrogen globally. There is an overwhelming demand for supply of green hydrogen, particularly in Europe, and transport is central to ensuring that supply […] The work being done as part of this partnership stands to help make green ammonia a globally-traded hydrogen carrier and fuel not just for the future but for today."