Chemical engineers convene to discuss research and education
THE ANNUAL ChemEngDayUK conference was hosted by the University of Leeds in March, with close to 200 delegates from academia and industry gathering to discuss the latest research developments.
This year's theme encompassed engineering on the microscale level and how it can be applied in manufacturing. Researchers presented their work through talks across parallel sessions along with flash presentations and poster presentations. Education was also a key topic at the meeting, with sessions on new trends in the chemical engineering curriculum, a panel discussion on biochemical and engineering skills, and a new-to-teaching network event.
Delegates were also treated to a tour of the newly-refurbished chemical engineering building.
Reshaping a pharmaceuticals company
Ian Shott, a former president of IChemE, gave a plenary lecture, Innovation, Entrepreneurialism and Leadership, about his successful reboot of a dying pharmaceuticals business and his plans for drug manufacturing in the future. In 2016 he bought the failing Covance Alnwick facility in northeast England along with partner Paul Ryan, and founded the company Arcinova. Arcinova is a contract research and development organisation serving the pharmaceutical and biotechnology sectors. The 15,000 m2 site was already equipped with many high quality laboratories, and Arcinova quickly made changes by upgrading Covance's gramme-scale pharmaceuticals facilities to kilogramme-scale. 
Its customers range from big pharma to emerging start-ups. Shott spoke of how many of the "big drugs" were developed by small companies and how he is particularly keen on working with small businesses with untapped potential. "We think playing in the small company market is an interesting place to be."
Arcinova has a multi-disciplinary team with over 100 scientists and engineers from different fields and Shott highlighted the importance of involving chemical engineers at the beginning of the drug production process rather than just at the end so that the lead times for developing new medication can be reduced. "I think chemical engineering is pivotal to the business transformation we're trying to achieve." 
Shott spoke of how Arcinova is looking to embrace continuous processes and that it is currently working on developing new procedures for drug manufacturing, such as biocatalysis and using unnatural amino acids as building blocks for drugs, which has the benefit of removing a number of chemical steps.
He predicted that the future of pharmaceuticals will lie in precision medicine, where a mapped genome of a patient could be used to deliver customised medication.
Life lessons in molecules to manufacturing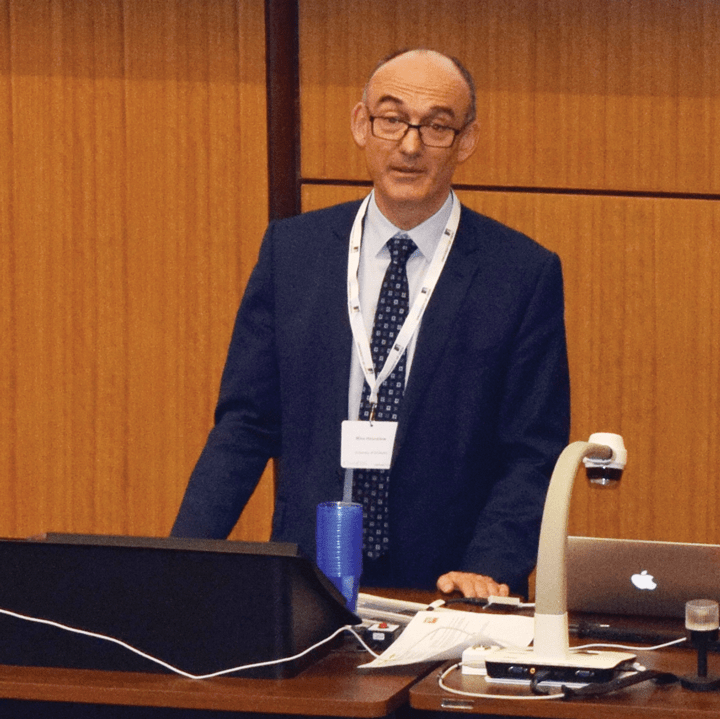 Mike Hounslow, vice president and head of the faculty of engineering at the University of Sheffield, gave what he described as a "travelogue and a selection of anecdotes, and not a single equation". True to his word, no equations appeared in the talk; instead he took the audience on a journey through his "life in particles" via Google Earth.
His career with particles began inside a kiln in Australia in the 1970s, where he had to break up the clinker that had formed on the floor of the kiln with a sledgehammer. "Particles tend to react everywhere – not just where you want them to," said Hounslow. After working at refineries and a quarry, he decided that he wanted to know more about the molecules he was working with, so he embarked on a PhD at the University of Adelaide in the 1980s while also teaching at the University.
In 1990 he took up a lectureship at the University of Cambridge before moving to the University of Sheffield in 1998. He spoke of the importance of both research and teaching at universities. "If you think research and teaching are in competition, you're not thinking hard enough". His research involves "describing how things stick together as they grow", and he has helped to solve crystallisation problems at various facilities, saying that each time it took ten years and three PhD students, which highlights the importance of research at universities.
As for teaching, he said that there are two things that result in good teaching: realising that it's a communication activity, and caring about it – the communication won't be any good unless you care that it's good. He finished his presentation with a brief description of the new pilot plant opening at the University of Sheffield.
Peter Dobson, formerly a professor of engineering science at the University of Oxford and now principal fellow of Warwick Manufacturing Group, spoke of his life story of taking atoms and molecules to manufacturing.
He started his career in the 1960s working as an apprentice with the General Post Office (now British Telecom), before gaining a PhD in physics from Southampton University. He did a lectureship at Imperial College London before moving to a job at Philips Research in 1984. While at Philips, he developed quantum well layer technology, which is now used in the lasers in DVD players.
In 1988 he returned to academia at the University of Oxford, and in 1999 formed the spin-out company Oxonica. The nanoparticles company developed sunscreen for Boots pharmacy by using nano-scale TiO2 doped with a small amount of manganese to prevent the TiO2 acting as a photocatalyst. Oxonica also developed a method to reduce the soot in diesel, which is currently used by bus company Stagecoach.
Dobson founded another company, Oxford Biosensors, in 2000 but this was dissolved in 2009 when its funding was withdrawn due to a delay in licensing the product. He spoke of this experience as one of his life lessons: "make sure that investors realise that FDA approval can take a long time."
His third company, Oxford NanoSystems, was founded in 2012 and has developed nanoFLUX, which is a coating for metallic heat transfer surfaces. The coating can make heat transport more efficient, for example in fridges and heat pumps.
His current work includes a waste-to-fuel project, and enhancing CO2-to-fuel conversion. "There's a lot more to do in molecules and manufacturing," he concluded.