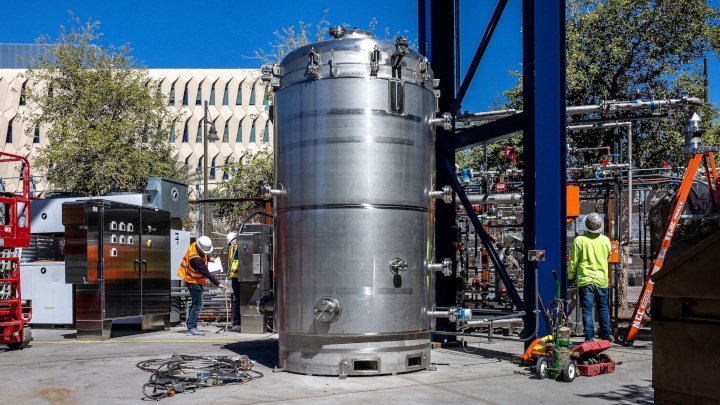 Charlie Leight/ASU News
CARBON Collect has unveiled its first "mechanical tree" for direct air capture at Arizona State University.
Carbon Collect developed the mechanical tree by incorporating research by Klaus Lackner, Director of the Center for Negative Carbon Emissions at Arizona State University (ASU). Following a two-year design and engineering programme, the first commercial-scale tree is now operational on ASU's Tempe campus.
The tree is comprised of a column 10 m tall and sorbent tiles that extend and retract. The tiles become saturated with CO2 within 20 minutes and are then lowered into the base of the column where the CO2 is removed from the sorbent. The tree is then extended again to repeat the process. The captured CO2 can either be stored or used in industry.
Carbon Collect says that the tree is up to a thousand times more efficient at removing CO2 from the air compared to real trees, and unlike conventional direct air capture (DAC) technologies, it does not require fans powered by electricity to remove the CO2. Energy is only required to process the captured CO2.
It uses the natural wind to deliver air to the system, which it makes it lower cost and a commercial viable scalable solution.
Pól Ó Móráin, CEO of Carbon Collect, said: "Our passive process is the evolution of carbon-capture technology, which has the ability to be both economically and technologically viable at scale in a reasonably short time frame."
Reyad Fezzani, Vice Chairman of Carbon Collect, said: "We are delighted to launch our first commercial-scale MechanicalTree at Arizona State University, which is a valuable partner in the development of our project. We believe we have developed a real and scalable solution to combat the effects of CO2. Our goal now will be to accelerate the global climate effort and to contribute to reversing carbon emissions over the next decade and beyond. I would like to acknowledge the invaluable work on our project by Klaus Lackner and the ASU Center for Negative Carbon Emissions."
Carbon Collect plans to scale up the technology through a series capture farms which will capture around 1,000 t/d of CO2.