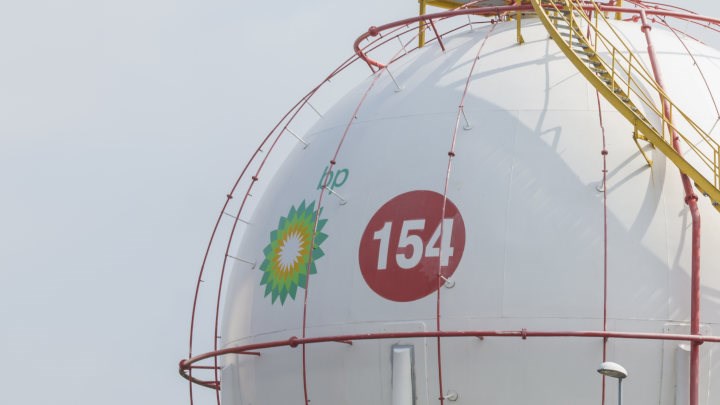 Nieuwland Photography / Shutterstock.com
BP has dialled back its climate commitment, signalling it will increase investments in oil and gas production as it reported historic earnings on the back of high energy prices.
BP reported that its annual profits for last year more than doubled compared to 2021 to US$27.6bn, and beat its previous record of US$26.3bn in 2008. It follows the record profits announced by Shell, TotalEnergies, ExxonMobil and Chevron, and has renewed calls for countries to levy windfall taxes against oil and gas companies.
Having taken the lead among its peers in 2020 when it announced it would restructure its business to reduce oil and gas production, BP now says it will invest more in oil and gas so has scaled down its ambitions. It had targeted a 40% reduction in oil and gas production by 2030 but has now lowered the bar to just 25% compared to 2019. As a result, it expects emissions will fall 20-30% compared to its earlier prediction of 35-40% by 2030.
More investment
It is increasing its annual capital spending budget by US$2bn. This means it will now spend up to US$16bn each year between now and 2030. This will be evenly split with around US$8bn/y spent on oil and gas production and US$8bn on what it calls transition growth engines, which includes bioenergy, hydrogen, and renewables. Last year it invested 30%, or US$4.9bn, of its capital expenditure budget on these transition businesses.
Justifying its U-turn, BP said the investment will generate extra earnings to invest in cleaner energy, and in a nod to the disruption to the energy markets and high prices brought about by Russia's invasion of Ukraine, it would help meet near-term demand for secure supplies of oil and gas.
CEO Bernard Looney said: "The world wants and needs energy that is secure and affordable as well as lower carbon – all three together, what's known as the energy trilemma. To tackle that, action is needed to accelerate the transition. And – at the same time – action is needed to make sure that the transition is orderly, so that affordable energy keeps flowing where it's needed today."
Extra oil with minimal new infrastructure
BP said it will focus oil and gas investments to 2025 on shorter-term, fast-payback projects that maximise value and can deliver rapidly, with minimal new infrastructure.
Looney said: "We will prioritise projects where we can deliver quickly, at low cost, using our existing infrastructure, allowing us to minimise additional emissions and maximise both value and our contribution to energy security and affordability."
The race to increase short-term investment in oil and gas assets could risk stranded assets. Tom Hadden, an energy analyst at engineering consultancy Arcadis, said the simultaneous ramping up of upstream investments screams oversupplies.
He tweeted: "Basically we're getting to the stage of the energy transition where everybody looks to monetise their carbon intensive assets/reserves as soon as possible before the music stops."
Transition plans
BP says it will invest half of the US$8bn/y earmarked for transitional businesses into hydrogen and renewables. It plans to establish a leading global position in hydrogen, initially supplying its refineries and then scaling up to develop export hubs for hydrogen and its derivates as markets expand. It targets producing 0.5–0.7m t/y of primarily green hydrogen, but will also pursue blue hydrogen which requires CCS.
The remaining US$4bn/y will be invested in its retail business, electric vehicle charging, and bioenergy. It plans to increase its supply of biogas six-fold, following its US$4.1bn purchase of Archaea Energy last year. And BP aims to increase biofuel production to around 100,000 bbl/d by 2030, supported by five projects at refineries that are focused on the production of sustainable aviation fuel.