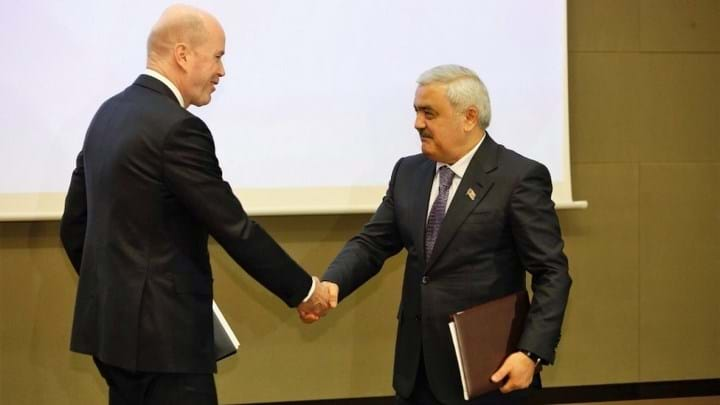 BP
BP AND its partners are to invest US$6bn in the Azeri Central East (ACE) project to further develop their Azeri-Chirag-Deepwater Gunashi (ACG) oilfield complex in the Caspian Sea. To date the partners have invested US$36bn in the ACG field.
ACG is located in the Azerbaijan sector of the Caspian Sea. Considered a 'supergiant' field, more than 3.5bn bbl (474m t) of oil have been produced from it to date. It currently has eight offshore platforms, which includes six production platforms and two process, gas compression, water injection, and utilities platforms. In 2018, the total production from ACG averaged 584,000 bbl/d.
The new development project includes a new offshore platform and facilities to process up to 100/000 bbl/d of oil. The project is expected to achieve first production in 2023 and to produce up to 300m bbl of oil in its life time.
The ACE project is centred around a new 48-slot production, drilling, and quarters platform which will be located midway between two existing platforms in a water depth of about 140 m. Additionally, the project includes new field pipelines to transfer oil and gas from the ACE platform to existing ACG oil and gas export pipelines. The oil and gas would go on to an onshore terminal. A water injection pipeline will also be installed to supply the ACE facilities.
Construction is to begin this year and continue until mid-2022. Construction will take place in-country and use local resources and is expected to create up to 8,000 jobs at its peak.
The recent decision is the first major investment decision made by the ACG partnership since September 2017, when it extended the ACG Production Sharing Agreement (PSA) to 2049. The original agreement was signed in September 1994. According to partners, the new contract aims to maximise economic benefits for Azerbaijan and ACG shareholders over the next 31 years. According to Rovnaq Abdullayev, President of SOCAR, the partners expect more than 3bn bbl of additional oil production from ACG. SOCAR is a partner in ACG.
Gary Jones, Regional President for Azerbaijan, Georgia and Turkey at BP, said: "Today's announcement supports the long-term production plans we set for ACG when we extended the PSA. It demonstrates our commitment to work with SOCAR and Azerbaijan's government to continue to unlock ACG's resources more efficiently and competitively."
Abdullayev said: "This strategic decision supports Azerbaijan's increasing role as an energy supplier for the regional and global markets." 
The ACG partnership includes BP (operates the ACG PSA), SOCAR/AzACG, Chevron, INPEX, Equinor, ExxonMobil, TPAO, ITOCHU, and ONGC Videsh.