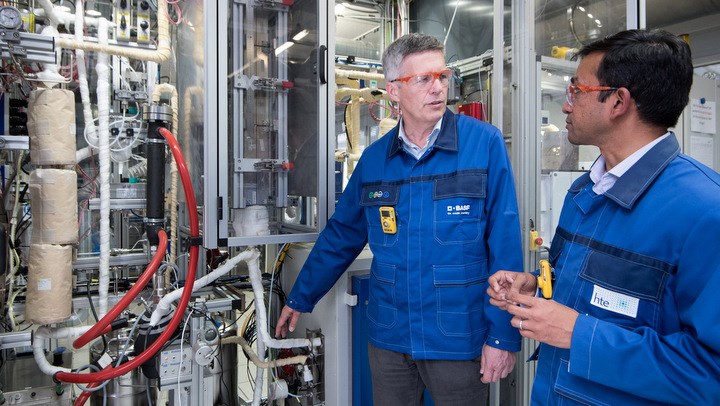 BASF has developed a climate-friendly process for methanol production, which if implemented could eliminate carbon dioxide (CO2) emissions from the entire process – from syngas production to pure methanol.
Production of the most basic chemicals is responsible for about 70% of greenhouse gas (GHG) emissions from the chemical industries. BASF is developing new technologies to reduce GHG emissions from these processes under its Carbon Management Program.
A team at BASF has now applied to patent an emissions-free methanol production process, marking one of the Carbon Management Program's first visible successes.
Methanol production begins with syngas, which in a typical plant is produced using steam reformation of natural gas. In this process, steam reacts with methane to produce syngas, which is then pressurised and converted into crude methanol using specialised catalysts. The crude methanol is then purified by distillation.
In BASF's novel process, syngas is generated by partial oxidation of natural gas, which does not result in CO2 emissions. BASF declined requests for more information regarding the process. It was proven advantageous in a joint study conducted with Linde Engineering. Subsequent methanol synthesis and distillation can be carried out nearly unchanged.
The waste gas streams that arise during methanol synthesis and distillation consist of methane (CH4), carbon monoxide (CO), carbon dioxide (CO2), and hydrogen (H2) which can be merged and processed. In BASF's Oxyfuel process the steams are incinerated with pure oxygen resulting in a small volume of flue gas with maximum CO2 content. The flue gas is then scrubbed using BASF's OASE gas treatment process for full CO2 recovery.
The recovered CO2 is fed back into the beginning of the process – syngas production. This requires additional H2 which BASF also aims to produce without any carbon dioxide emissions, for example by methane pyrolysis which is also being developed under the Carbon Management Program.
The novel methanol synthesis process is being tested in a pilot plant at BASF's subsidiary hte (the high throughput experimentation company), in an ongoing project which began in August 2017, according to Maximilian Vicari, Project Manager at BASF's Intermediates. He added that BASF expects industrial scale production in about ten years.