3M, the US-based materials firm, has released the results of an annual survey which show that public scepticism for science is growing, prompting calls for greater outreach by the science community to help gain support.
More than 14,000 adults in 14 countries were surveyed for the 2019 State of Science Index (SOSI), an independently researched annual survey. The research was conducted by global research company, Ipsos.
The findings show that scepticism of science has grown in the past year – three percentage points globally and six in the US. Additionally, 45% of global respondents stated that they only believe in science that aligns with, or reinforces, their beliefs. But despite 58% of respondents believing that scientists are elitist, 80% said they were more likely to believe information coming from someone in a scientific field.
Furthermore, the responses show appreciation for and interest in science. 87% of respondents said they believe we need science to solve the world's problems and 62% believe the best days of science are still to come. 72% of respondents said science make them feel curious, and 85% said they wanted to know more about science.
Respondents interested in science were most likely to be "fascinated" by the potential benefits of scientific advancements for humanity. 3M concluded that "connecting the dots between science and its positive impact on humanity" could be key to encouraging interest in and gaining support for science.
However, the findings also revealed that communication is an obstacle. 88% of respondents said that scientists should communicate their results in simpler language, and 84% said scientists should make science more relatable to everyday life.
It also appears that science lacks advocacy with only 20% of respondents saying that they stand up for science when debating its merits with others.
Jayshree Seth, Chief Science Advocate at 3M, said that "…with scepticism of science growing worldwide, now is the time to stand up and take action in support of science."
Mike Roman, CEO of 3M, said: "The vast majority of people see the same opportunity with science that we see every day at 3M. The world needs science more than ever to help solve the toughest challenges facing the planet. At the same time, science needs advocates who can unite to show how the field makes a difference in people's lives."
3M is using these and other insights to try to benefit science through initiatives and tools that could change views for the better.
A lack of pursuit
UK respondents expressed regret at not having pursued science-related careers. 48% said they would pursue one if they could turn back time.
The survey helped to identify factors which prevent people in the UK from pursuing STEM careers, and among these factors was a perceived lack of confidence in academic ability. 27% of respondents not currently in a STEM career didn't think they were smart enough to pursue one and 25% didn't believe they did well enough in science-based subjects at school to consider a STEM career.
Furthermore, 22% of UK respondents who did not pursue STEM careers said that they did not realise the range of careers that a science education could lead to. Whilst 78% of the respondents could identify astronaut as a STEM career, fewer realised that nurses (54%), plumbers (39%), and farmers (35%) could also benefit from a science education.
Seth said: "The UK findings of this year's SOSI clearly show that there is a disconnect between the way people perceive STEM careers relative to their own ability. There is work to be done by the science industry in breaking down these barriers and making science accessible, both in terms of creating an environment where STEM careers can be pursued, and people feel inspired to take an active interest in how science can meet the world's most pressing challenges."
STEM and the next generation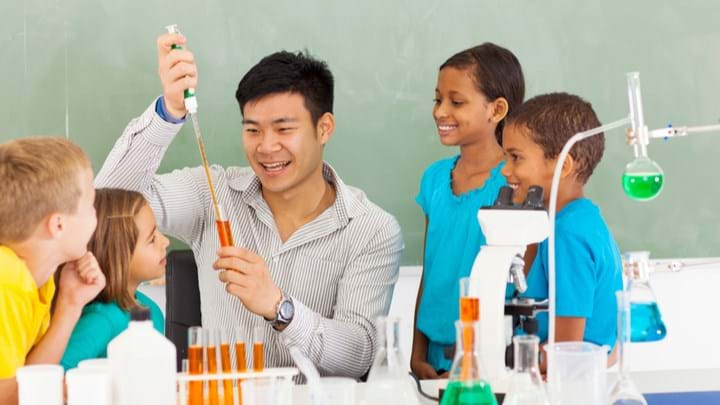 84% of UK respondents said they would encourage their own children to pursue a science-based career.
However, UK respondents also perceive weaknesses in science education and a lack of promotion around study of STEM subjects. In addition to funding, respondents believe the biggest obstacles for scientific advancement in the UK are related to education and interest. 24% pointed to inadequate education and training for the next generation of scientists and an equal percentage identified the lack of students wishing to pursue science careers.
3M suggested further training and development to enable teachers to motivate children to see the viability of STEM careers. The company also said that more should be done to support parents in encouraging their children.
Despite the large majority that said they wanted their children to pursue STEM careers 35% of UK respondents admitted setting bad examples. They admitted saying things to their children such as "I am not a science or maths person" or "science/maths won't be important for your career in the long run."
Adam Newland, Head of Corporate Research Systems at 3M UK, said: "The UK has always punched well above its weight internationally when it comes to creating and developing world-changing science. The results of our second SOSI survey give us cause for concern, as well as optimism when it comes to the scientific future of this country. It's clear some of the population hold negative views of science as a discipline and career option. However, for such a high figure to say they would like a STEM career for children makes it clear that the ambition to lead the world in scientific discoveries and developments is far from spent."
Taking action
Prompted by the findings, 3M has created the Storytelling for Scientists toolkit to help scientists better communicate science; and the Beyond the Beaker video series allows scientists to tell their stories, venturing out of the workplace and revealing the people behind the science. 3M says that throughout the year it will embark on various partnerships to advocate for science and STEM initiatives.
Katherine Mathieson, CEO of the British Science Association, said: "There are deeply engrained stereotypes about science and scientists that we must break down if we're going to move the dial on diversifying science; not only increasing the number of people from different backgrounds going into STEM careers, but also those who identify as 'engaged' with science in their lives. If more people who would like to take science options were encouraged to do so, the skills shortage would be much less of an issue."
"We must look beyond the lab and find ways to position science alongside other areas of human endeavour, to show that there are lots of different ways to participate in science in the way people might music, or sport, or politics."