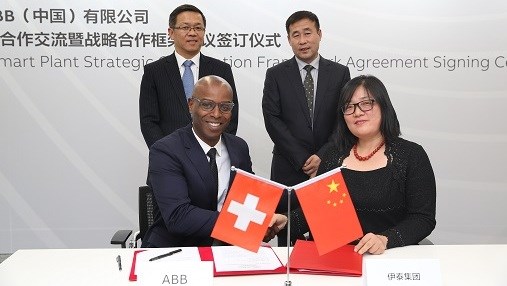 ABB
ABB has signed an agreement with Chinese coal production company Yitai to apply ABB's technologies across Yitai's plants.
The framework agreement will give Yitai access to ABB's Ability technology platform, which is an integrated industrial internet offering and cloud infrastructure which will enable Yitai to harness the power of industrial data to enhance decision making. The companies have also agreed to form a consortium to develop opportunities presented by digitally empowered plants within the coal chemical industry.
Yitai's brownfield sites will be upgraded with ABB's telecommunications technologies. Yitai will also benefit from ABB's collaborative network which connects people in production facilities with those at headquarters. The data flow between various plant systems and departments will help to improve operational efficiency.
Gu Chunyuan, president of Asia, Middle East and Africa Region, ABB Group, and chairman and president of ABB (China) said: "At present, a new round of technological upgrading and industrial transformation has promoted rapid changes in the industrial field. Digital and intelligent technologies have become the important driving force and developmental direction of global industrial change. Through this cooperation, ABB combines its own advanced technologies and practical solutions with Yitai's industry expertise in the coal chemical industry."
Zhang DaiHua, project manager of Yitai's intelligent coal chemical plant and deputy general manager of Yitai's coal chemical management department said: "Yitai Group is committed to making the modern coal chemical industry bigger, stronger and better by utilising advanced science and technology."