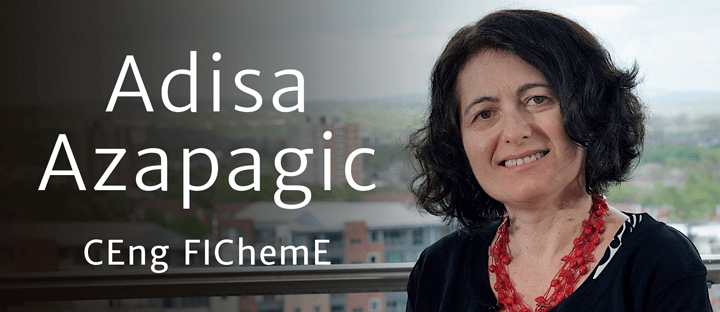 Shining a light on the valuable work of IChemE volunteers
ADISA, you're Founding Editor-in-Chief of Sustainable Production and Consumption (SPC), and Editor-in-Chief of Process Safety and Environmental Protection (PSEP), but before we discuss your volunteering, tell us a little about yourself.
I'm Professor of Sustainable Chemical Engineering at the University of Manchester, UK.
What did you study at university?
I obtained MEng and MSc in chemical engineering (University of Tuzla, Bosnia & Herzegovina), and PhD in chemical engineering (University of Surrey, UK).
And what attracted you to study chemical engineering?
It was by chance, really. I didn't know much about chemical engineering before I chose to study it, but I was good at maths and sciences and had quite a 'practical' mind. So, chemical engineering seemed a natural choice. The best decision I've made in my professional life!
Give us a potted insight to your career so far
After completing my PhD at the University of Surrey (1996), I became a Lecturer (1996-2000), then Reader (2001-2004) and finally Professor (2004) at the same university. I moved to the University of Manchester in 2006.
How long have you been volunteering for IChemE?
Since 2014.
And why do you volunteer?
Publishing is an integral part of academic life. Being an Editor-in-Chief helps me to understand better the publishing process as well as to keep on top of my profession. I also wanted to bring something back to the community through my life-long experience in publishing.
You may wish to ask though: "Wasn't one journal enough – why two?!"
Good question!
What skills or qualities are required for your volunteering role?
In addition to an expertise in the relevant research topics, being an editor requires an ability for strategic thinking and decision-making. It is also important to be able to anticipate future research trends and spot pioneering work.
Furthermore, editors must have an eye for detail and the patience to see papers through the often torturous review process. They must also be able to put themselves in the authors' shoes – if you don't publish papers yourself, it's difficult to appreciate the amount of work and effort that goes into writing a paper.
What has been the most rewarding part of your volunteering experience?
The most rewarding experience for me was starting up Sustainable Production and Consumption (SPC), as that allowed me to realise my long-standing ambition to develop a truly interdisciplinary journal. If we are serious about sustainable development, then we must stimulate collaboration between different disciplines, from engineering to natural and social sciences to humanities. This is the mission of SPC, and seeing that materialise was very satisfying. I also enjoy following papers through their life cycle, from submission through review to publication and finally to their use and application.
What is your proudest achievement in your professional life?
Being elected a Fellow of the Royal Academy of Engineering.
What is your proudest achievement in your personal life?
A very happy marriage – although at 30 years, it's still early days.
What would we find you doing outside of work on the weekend?
Hiking or cross-country skiing.
What is your advice for others who might be considering volunteering for IChemE?
Volunteering is rewarding, so I recommended it highly. However, it is also time consuming, so choose your role carefully.
---
This is the third article in a series that highlights the variety of work done by IChemE member volunteers.
To read more, visit the series hub .