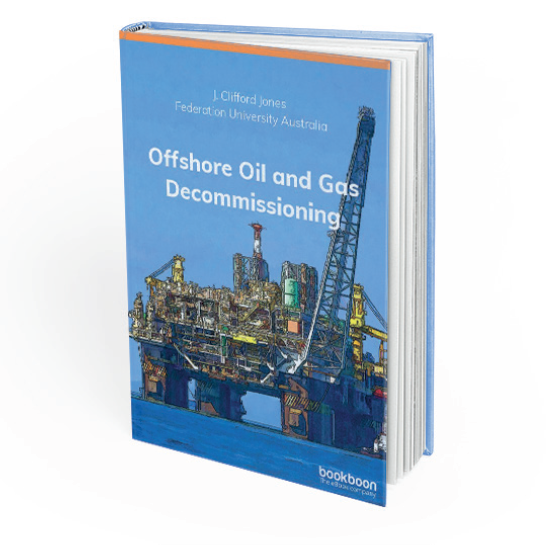 J Clifford Jones, Federation University Australia ISBN: 9788740319224; Bookboon; 313pp; £FREE
This title sets out to provide an overview of decommissioning in the offshore oil and gas industry with excellent examples of application of the technologies, particularly in the North Sea and Gulf of Mexico. The book will be of particular interest to academics and industrialists who want an overview of decommissioning, its techniques, associated challenges and key accomplished industrial milestones to date, such as the removal and record lift of the Brent Delta platform topsides in 2017 by the Pioneering Spirit heavy lift vessel.
For those directly involved in the upstream industry (and offshore decommissioning sector) however, more explanation is required in certain areas. The section on decommissioning of wells does not provide sufficient definition on specific challenges when decommissioning unconventional wells such as deep water or high pressure/high temperature completions. The wider aspects of decommissioning pertaining to public perception and reputational risks is addressed in parts; the discussion on risks and challenges of decontaminating, quarantining and disposing of redundant platform equipment and associated environmental impacts could be improved. The principle of inherent safe design for decommissioning is referenced briefly in a section on FLNG technology; this is not expanded in sufficient detail to consider conventional greenfield projects. Whilst the author does address the estimated costs of decommissioning with a number of examples, further granularity on forecasted cost breakdown would be helpful to pinpoint the cost- intensive elements of the offshore decommissioning project cycle. 
Overall, the book is well presented with industrial case studies, provides a sufficiently good overview of decommissioning and in doing so, is pitched to a broader audience. Industry specialists may find some areas light on specifics.
---
Shakeel Ramjanee, MIChemE, Senior Process Engineer, Shell
RATING: THREE STARS
Best Feature: Well written, easy to understand and excellent industrial case studies
Worst Feature:  Lacks detail in some areas that experts might want to explore further