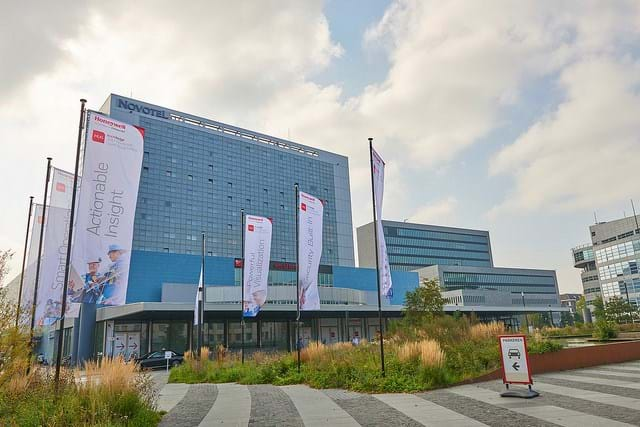 SITTING after dinner with some of the other journalists, media analysts and PR staff on the evening we arrived in The Hague for HUG EMEA 2017, I realised it was the sixth time I'd been to the conference. You might think there was nothing new to report, but you'd be wrong.
This year, the buzz was around the "connected plant". And when I say connected, I really do mean connected. Honeywell wants to connect everything – instrumentation, process control systems, safety systems, security systems, training systems and even operators. There is a definite shift towards selling platforms rather than individual products.
Vimal Kapur, president and CEO of Honeywell Process Solutions, kicked off proceedings with the first keynote, suggesting that the process automation industry is set for "a new wave of innovation", driven by five "disruptive technologies" – virtualisation, digitalisation, virtual reality, the cloud, and connectivity. Many of these are already having an impact in what is known as Industry 4.0. The connected plant will draw on all of these things.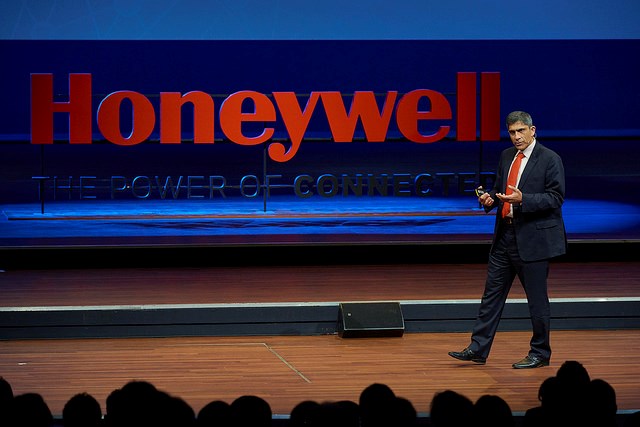 Connected process and assets
There are three strands to the connected plant – connected process, connected assets and connected people.
The connected process and connected assets make use of the Industrial Internet of Things (IIoT) to collect detailed data from process and assets, analyse it in the cloud and improve the performance, production efficiency and process reliability. This includes data from individual assets like sensors, temperature gauges and pumps, and from the process as a whole. From there, the possibilities are vast. 
Paul Bonner, vice president analytics and consulting, explained that Honeywell Process Systems has its own software and modelling platforms (such as UniSim software), and not only that, the wider Honeywell group has 350 manufacturing plants of its own where it can test and refine its offerings.
Once you are collecting your data, it can be uploaded to the cloud, where you can connect, in real time, to remotely-located international experts who can look at the data, and analyse it, along with artificial intelligence analytics. For example, if you have a pump behaving strangely, they can compare data, past incidents and fixes, making it much easier to determine what might be causing the problem and how it might be fixed. At the moment, this is only available for Honeywell subsidiary UOP technology, but Kapur said that it will soon be rolled out to other partner equipment manufacturers. Access to extensive expertise like this can solve problems and deliver results quickly.
One of the main things discussed at HUG 2017 was the use of the digital twin – a virtual model of the plant that runs in the cloud. It can be made from control models or real plant data.
Chief technology officer Jason Urso explained that the digital twin can be used to compare perfect model conditions with real operating conditions and data, allowing for rapid troubleshooting and process optimisation. New equipment can be tested in the digital twin before it is installed in reality, either when upgrading or in the initial design phase. Changes in the process, feedstock or catalyst, or even emergency responses can all be tested in the cloud before being rolled out in reality, saving time and money.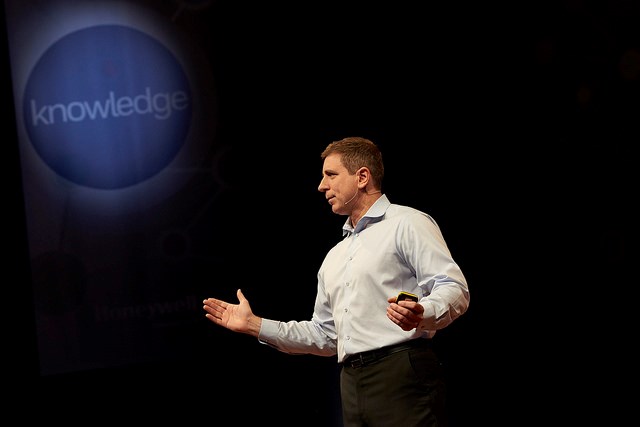 Your connected plant's Experion control system can include all plant documentation, electronic manuals and safety procedures, allowing for instant access if ever there is problem, potentially saving valuable time in an emergency, as nobody has to search through a filing cabinet. Whenever an asset is changed, the documentation is automatically updated, meaning it is always up-to-date, unlike a conventional paper-based system.
Honeywell Process Solutions' Justin McCurnin and Max Gutberlet told me of further benefits of connected instrumentation, the first being auto device commissioning. A new sensor can be plugged into the system, where it connects to the Experion control system through Field Device Manager software. Commissioning takes place automatically in minutes, and of course, the electronic documentation is automatically updated.
If your connected Honeywell instrument flags up a problem a few years down the line, it is modular. Rather than having to replace a whole temperature sensor, for example, the faulty part can be simply removed and replaced. The demonstration of this process took about a minute.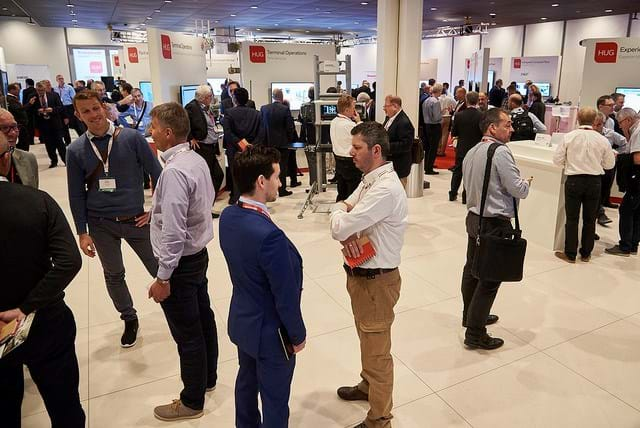 The connected plant also allows operators to optimise supply chains, so more of the right stuff can be delivered to the right place and at exactly the right time, making planning easier and reducing the inventory kept on site. This sort of forward planning can also reduce waste.
Connected people
Jack Gregg, from Honeywell Lifestyle Solutions and Services, said that the philosophy behind the connected worker has three elements – collaboration, safety and competence.
This begins, as you might expect, with training. Each site is assessed and each individual given a specific curriculum to follow based on their training needs. Classes might be virtual reality, augmented reality, e-learning, or an instructor coming to the site to give training, depending on the subject. Training programmes in the cloud can be based on genuine plant data.
Once out in the field, the connected worker will not only have correct PPE, but other equipment such as a GPS, so their whereabouts are always known, and a gas detector.
"We're developing a headset that connects to a helmet that allows us to see what they're doing with a camera, they can see the process equipment through a visual screen. They can talk to a subject matter expert wherever they are in the world through the headset as well. So now, the lone worker heading out into a dangerous environment isn't alone anymore," said Gregg. "Collaboration, safety, and competence."
He added that it's essentially what has been going on for years, but using new technologies to make it better. A worker with augmented reality technology, could for example, hold a tablet up to a pump and see all the values that can be seen in the control room, because the whole plant has been digitised. All the information the worker needs can be delivered directly to them without the need to read dials or instrumentation, or radio back to the control room to ask. This technology will also be available in the headsets.
Connected workers, properly trained in this way, with all the equipment and information they need, will result in lower safety costs, due to reduced incidents, high productivity due to reduced error rates, and lower compliance costs.
Picture the scene
You're a plant manager sitting in your control room, having earlier sent your operatives into the field to carry out their daily tasks. You knew exactly which tasks each operator was able to complete, because every training course they had successfully completed was logged on your system.
Your control system tells you there are unusual readings coming from a temperature sensor. You know exactly which operator to send to have a look at it, based on their training, and where they are in the plant, which you can see, because of their GPS system, and know whether they are wearing the right PPE and gas detector.
If it transpires that a repair is necessary, and they are trained, the operator can watch a video of the process on the tiny screen in their headset to refresh the memory, and of course, talk live to subject matter experts.
If an incident happens, you can see exactly which alarms are going off and which to pay attention to because of your DynAMO alarm management software. You can direct your CCTV cameras to look at the area, which you can then look at from the control room. If it's serious, and you need to evacuate, each operator can be given their own escape route based on their location, taking them out of the building or offsite in the quickest way avoiding any hazards. And when they get to the gate or the door they are directed to, it will be unlocked, because the Experion system is connected to it.
You can even run a drill within the system, with everything reacting exactly as if it were real. And if there is an emergency during the drill, don't worry, the system is set up to tell you that too.
Looking at the screens and simulations in the demo area at HUG 2017, to me it genuinely seemed pretty futuristic. But it isn't!
The Last Migration…
Connected to all of this [intentional pun] is what Urso called "The Last Migration". As technology improves, at some point, it becomes necessary to replace all your legacy physical hardware as it all improves and is updated. This can take months and cost tens of millions of dollars. Urso explained that may no longer be the case. Where once, a system had to run on its own hardware, now, it can run in software, on a PC.
"It's now all going to be emulated in software, so you'll never need to migrate a hardware platform again. That hardware has become software. You'll update that software over time as you need to," Urso told The Chemical Engineer. "The concern that most customers have is that all of those legacy systems have hardware components that go obsolete over time, and then when it goes obsolete you need to buy a whole new system and that becomes a gigantic migration project. By moving the physical software into hardware, we do see it that you don't need to perform a physical migration ever again. Swapping one physical box for another physical box will no longer be necessary."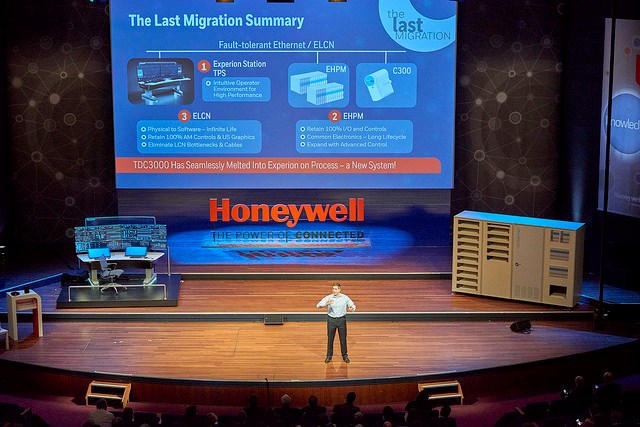 All of Honeywell's legacy systems can now run on software on a PC, or even in the cloud. After 2025, the company will stop supporting its legacy systems. However, rather than having to rip everything out and start again from scratch, Urso explained that all the accumulated knowledge and intellectual property of those systems, even for a 40-year-old computing system, can simply be copied across as files onto the software.
Then you're faced with a choice, carry on as normal, which is perfectly possible, or take advantage of updated Honeywell Experion systems and the Connected Plant, for example for improved visualisations, better alarm management and cyber security, or you can take the data, create a digital twin, and learn where to improve the process.
Urso says this sort of compatibility and continuity is key. "Design matters and creating a good experience with our devices is important."
Where next?
A company like Honeywell never stands still. The Last Migration is not the end. While physical devices and sensors will always be needed in the plant, Kapur explained that the human-machine interface to run the plant could move to the cloud. Urso says it is "inevitable" that control systems will evolve to run in the cloud.
"Our customers have all their IT infrastructure, but they might not have all the skills to fully keep up with it all, or with cyber security. You've got thousands of chemical plants who don't want to have an IT infrastructure, they just want to make chemicals. We can take that off their hands. We can provide the control system as a service," said Urso.
The best cyber security and process control experts in the world will then be able to work on a company's systems, hardware will always be up to date, software regularly updated, and the latest cyber security patches always in place. Process control can go further than this though. The Connected Plant and the use of data will be even more useful when it can be used outside of the plant in which it was generated, within the cloud. Predictive data analytics are going to become vital, so that events can not only be managed, but predicted and prevented from happening in the first place. Maintenance will become proactive rather than reactive.
"We can look at data not just from one plant but all the plants across an enterprise and then many enterprises. Once we have a big enough repository of data we'll be able to have even more insights on equipment health monitoring or how to drive a process along a little better. That will be a big change in our industry for sure," said Urso.
Pramesh Maheswari, global vice president of Lifestyle Solutions and Services, adds that once measures like this are in place, it will become much easier to document the kind of "tribal knowledge" built up by individuals with years of experience.
"All the workforce that has been at a plant for 30 or 40 years, has so much knowledge, and that knowledge will go away once people retire. When we start documenting all the procedures and knowledge that these people have, that will help future generations," he said.
The process industries are going to have to change and adapt to the new ways of working, to Industry 4.0, to big data and the connected plant. As Kapur said: "The perception that this will pass, this in not true. This is not going to pass. This is real. People think they can stay in the past, but they cannot."