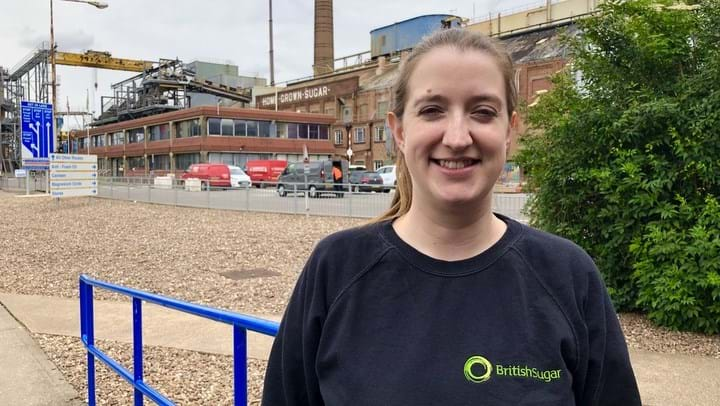 Richard Navin, British Sugar
HELD on 23 June, International Women in Engineering Day (INWED) is a global awareness campaign which celebrates women in engineering, and encourages young women and girls to consider the career opportunities that engineering offers.
"I think it's important to have a platform to celebrate women in engineering, their achievements and set out how we can continue to progress increasing representation of women in such an important and exciting industry," says chemical engineer Kathryn Grant. She adds that it helps to educate, raise awareness, and highlight role models for young people.
Kathryn believes that it is important to educate people about what engineering is. "I think a lot of people think that engineering is car mechanics," she says. "But it's such a wide-ranging industry to get into that you can be in any sector at all and have an aspect of engineering in it."
A lack of understanding nearly prevented Kathryn from entering a career in engineering. Though even as a girl she imagined herself as an engineer, she initially chose to study English, geography, and physics. "I didn't understand that if I wanted to go into some kind of engineering…environment, I would need maths".
Fortunately, a careers conversation with a teacher steered her in the right direction and she made the decision to drop English in favour of maths. It was a crucial decision that allowed her to later become a qualified chemical engineer with a Bachelor's from the University of Sheffield, UK.
Kathryn is now People Development Manager at a British Sugar factory in Newark, UK. In September she will have been with the company for 11 years, having had several managerial roles in her tenure. During her career she has also acted as an advocate, educating young women about STEM, and the opportunities it offers.
The right place to be
Kathryn found British Sugar at a university careers fair. She was fascinated to discover the process that began with "a plant from the ground" and ended with a shelved supermarket product. "I found the whole process really interesting and I wanted to be involved in that," she says.
Almost 11 years after successfully applying for a graduate scheme Kathryn has stayed at British Sugar because of the excitement of a dynamic workplace. Relying on a natural product – sugar beet – the sugar manufacturing process is constantly changing. The beets change year-on-year because of the weather and the growing conditions "so you never know what to expect," says Kathryn.
She adds that as a person who likes to lead, the opportunity to take on responsibility early in her career also impacted her choice to stay. She became Trainee Shift Manager just 18 months into the graduate scheme and Shift Manager after completing it.  
In her role as Shift Manager at the Wissington Sugar Factory, Kathryn showed mettle as she dealt with "the first real test" of her character and engineering thinking skills. A power outage at 04:00 in the factory's glasshouse – then used to grow tomatoes for British Sugar's horticulture business – could have meant a loss of crop and a significant business impact if not quickly resolved. Kathryn stepped up, coordinating her team and supporting their problem-solving skills, getting the needed heat and carbon dioxide back to the crop "within an hour or so".
Her current role as People Development Manger allows Kathryn to continue in a role of leadership, using her own skills and experience to train technicians involved in the sugar-making process so that they can make the right decisions when operating a plant.
Understanding people
Entering her career as a young woman Kathryn soon found herself leading people the same age as her parents. She says this made her mindful and encouraged her to see beyond age and get to know people on a personal level.
"It's about getting to know the individual, regardless of any other characteristic that we might wish to label somebody as." She says that's been her approach throughout her career.
Kathryn says that she gets the best out of the people she manages by getting to know them, understanding their motivations, and supporting them in achieving their goals.
Inspiring young women
Being one of a few young women on her university course, Kathryn became aware of a gender disparity within engineering early on. It was a realisation that pushed her to get involved in educating other young women about what she considers  "a fantastic career path" that's "full of opportunity".
Diversity in backgrounds leads to diversity in thinking, so Kathryn believes it's important that more women consider careers in engineering.
Once a member of the Young Women's Board of Women in Science and Engineering (WISE) Kathryn was given the opportunity to contribute to efforts to mobilise female engineers under 30 years old and to "get them out there, spreading the message of STEM". The WISE Campaign aims to achieve gender balance in science, technology, and engineering. As a Board member, Kathryn experienced her proudest engineering moment when she met Her Royal Highness Princess Anne, who is a patron of WISE.
Kathryn continues her advocacy work now through British Sugar, going to local schools on INWED and educating students about engineering and the opportunities available to them. The work also allows young women to see female role models in the engineering field.
"Getting out there, showing these young women these amazing role models that are in the local community… I think that's a great opportunity."
Kathryn strongly supports young women and girls because "it's important to me that they understand it is possible for them to achieve anything they set their mind to, and they shouldn't feel limited by what society or [they] themselves may assume they are capable of".
"At the same time, I think it's important to educate young men and boys to shape their view of girls and women, so they feel empowered to champion those who are under-represented in order to support future female generations."
As Kathryn says: "At the end of the day, we are all engineers"
INWED is coordinated by the Women's Engineering Society. This year's theme is Transform the Future.