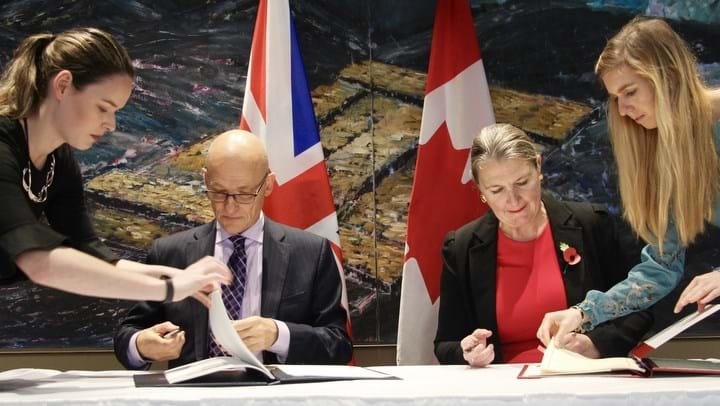 BEIS
THE UK and Canada have signed a bilateral Nuclear Cooperation Agreement (NCA) which will ensure that international cooperation will still apply after the UK leaves the EU.
When the UK leaves the EU in March 2019, it will also exit the European Atomic Energy Community (Euratom) agreement which governs the peaceful use of nuclear energy. The agreement with Canada, which was signed on 2 November, is the third to be made this year, with agreements already made with Australia and the US. The agreements allow the UK to continue mutually beneficial civil nuclear cooperation when the Euratom arrangements cease to apply in the UK.
The UK has now secured all replacement international agreements necessary prior to the Euratom exit. The three NCAs must be ratified by parliament to ensure that they can come into effect at the end of March 2019 in the case of a no-deal Brexit.
In addition to the international agreements, the Nuclear Safeguards Act 2018 has been created to ensure domestic nuclear safeguards remain in place after Brexit.
Richard Harrington, business and industry minister, said: "This latest international agreement will help ensure our civil nuclear trade with Canada can continue seamlessly, providing certainty for our world-leading nuclear sector which provides one fifth of all our electricity. These preparations have been recognised as gold standard."
Chris Heaton-Harris, parliamentary under-secretary of state at the Department for Exiting the European Union, said: "Signing this nuclear cooperation agreement with Canada is a major step in our preparations for leaving the EU and comes after we recently signed bilateral NCAs with the United States and Australia, and concluded nuclear safeguards agreements with the International Atomic Energy Agency. Together, these deals increase the global nuclear industry's confidence that there will be no disruption to the UK's international civil nuclear arrangements – and reflect the extensive work taking place across government to ensure the country continues to operate smoothly from the day we leave the EU."