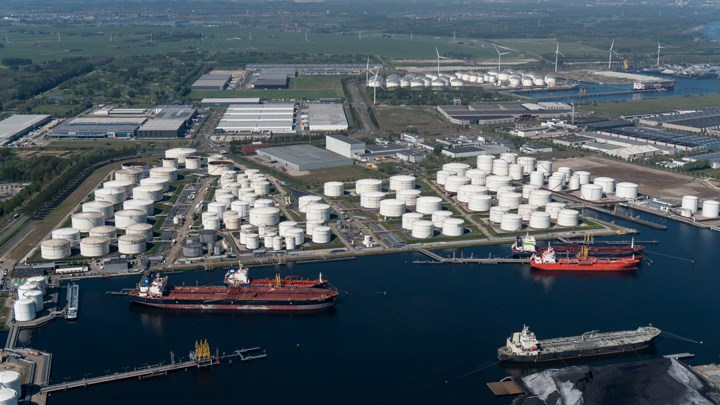 Aerovista Luchtfotografie / Shutterstock.com
WITH plans to become a clean-energy powerhouse that will place the UAE at the forefront of the energy transition, UAE-government owned renewable energy company Masdar has signed an MoU with four Dutch companies to explore the development of a green hydrogen supply chain between Abu Dhabi and the Netherlands. 
The deal, which was signed with the Port of Amsterdam, SkyNRG, Evos Amsterdam and Zenith Energy Terminals, would see green hydrogen produced in Abu Dhabi and then exported to the Netherlands through the port of Amsterdam. 
Hydrogen is set to be an essential component for many countries striving to reach net-zero targets, especially in sectors that are difficult to decarbonise, such as steel, chemicals, aviation, and shipping. 
According to the International Renewable Energy Agency (IRENA), the aggregated hydrogen demand for G7 members in 2020 was around 24.2m t of hydrogen, representing almost 28% of the global demand. The US is the largest consumer from the G7 group, with 11m t, while the European Union follows closely behind with almost 7.7m t. Of the total figure, almost two-thirds is for oil refining, while the majority of the remaining third is for the production of chemicals: ammonia and methanol. However by 2050, IRENA says that demand growth for hydrogen by G7 members could reach as much as 192m t/y. 
In response to this vast potential and market need, Masdar has established a green hydrogen business unit with a goal of achieving 100 GW of renewable energy capacity and 1m t/y of green hydrogen production by 2030.  
"Masdar believes green hydrogen to be a promising energy source for hard-to-abate sectors in support of global decarbonisation, which is why we launched our dedicated green hydrogen business," Mohammed Jameel Al Ramahi, Masdar's CEO said. 
As the operator of Europe's fourth-largest port, and with a commitment to scaling up green hydrogen capabilities, the Port of Amsterdam is a key ally in Masdar's renewable energy expansion plans. 
"The UAE aims to play a central role in the emerging green hydrogen economy and this partnership with the Port of Amsterdam and associated players in the green hydrogen space would help position Abu Dhabi as a key hub for green hydrogen development," said Sultan Al Jaber, Chairman of Masdar. 
Port of Amsterdam officials said the MoU with Masdar, which will explore several hydrogen transportation methods, with a focus on liquid organic hydrogen carriers and liquid hydrogen, was essential to the goal of the importing at least 1m t/y of green hydrogen.  
 Zambia's solar plans 
In a separate deal agreed at Abu Dhabi's Sustainability week, Zambia's President said that the country's state-owned power utility, Zesco, is teaming up with Masdar to build solar plants in the Southern African country. 
The joint venture targets the development of 2000 MW of solar power projects starting with an installation of 500 MW. 
"This unprecedented US$2bn capital injection shows strong investor confidence in Zambia," said President Hakainde Hichilema  via Twitter. 
Zambia is seeking alternatives to electricity generation and has been rationing supply following a big drop in water levels in Lake Kariba – the world's largest artificial lake – which usually contributes more than 75% of the country's power output via hydropower generation. 
The vast fresh-water lake was formed when the Zambezi river was dammed at Kariba Gorge in the 1950s, but water levels have been dropping due to reduced inflows from the Zambezi river and its tributaries, and heavy use by power generation companies in the bordering countries, reports Reuters. 
Germany's hydrogen ambitions 
Meanwhile ADNOC, one of Masdar's shareholders, has announced that it has signed an MoU with chemical engineering specialists, Thyssenkrupp Uhde, to explore a long-term partnership to create new markets for hydrogen and promote global clean energy value chains. 
Under the agreement, the companies will work together to develop projects for large-scale ammonia cracking, which is used to extract hydrogen from ammonia after transportation. Ammonia is an ideal carrier of hydrogen as it is much easier to compress and transport, but it needs be "cracked" or decomposed into hydrogen before it is used to produce energy.  
Thyssenkrupp Uhde has already built 130 ammonia plants worldwide, one of which, the SAFCO IV ammonia plant in Al-Jubail, Saudi Arabia, was the first to use the firm's dual pressure technology. 
Thyssenkrupp says the key innovation in the new process is "an additional medium-pressure once-through ammonia synthesis connected in series with the conventional high-pressure ammonia synthesis loop." This allows for greater efficiency and means that the syngas compressor of a 3,300 t/d dual-pressure plant is the same size as that in current 2,200 t/d ammonia plants. 
"Countries in Europe, along with many others, depend on green hydrogen imports to decarbonise industry and society," said Cord Landsmann, Thyssenkrupp Uhde's CEO. "Clean ammonia is the best way to transport hydrogen by ship, and together with ADNOC, we will deliver the last piece of the puzzle for global green hydrogen trade at large scale."