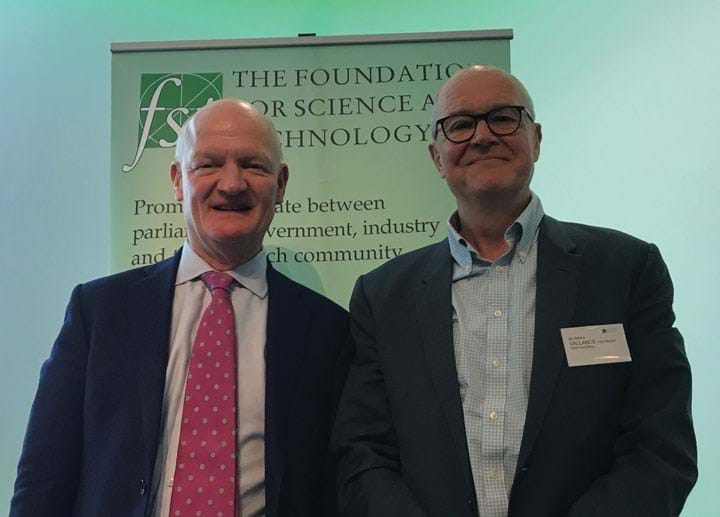 FST
Sir Patrick Vallance reflects on five years as the UK's chief scientific advisor
"THE day that we found out the result of the first [Covid-19] vaccine with a 90%+ efficacy was absolutely brilliant and a massive high point," said Sir Patrick Vallance, the UK's outgoing government chief scientific advisor. He was reflecting on the standout successes of his five-years in government. Others include securing a science day at the UK-hosted COP26 climate summit, and the target that 50% of graduates joining the civil service's graduate scheme will have a STEM degree.
Sir Patrick was taking questions at a Foundation for Science and Technology event from former science minister Lord David Willetts and an audience of STEM leaders and government employees.
Net zero
Asked if he was an optimist on climate change, Sir Patrick said he is a pragmatic realist: "I think there is a group of people that are needed to make sure that we get the net zero plans in place and that is engineers…this is a big systems engineering problem."
He said the situation requires a team of engineering experts at the heart of government with very clear delivery plans. It doesn't require endless new policies because "in order to get your technology at scale by 2050 you can't start dreaming about technologies that haven't yet been invented. They have to be things that you can already see or feel or touch…and they need to be scaled."
On how AI might influence the future of work, he said: "I do think that we are entering a period of extreme disruption in the workplace." He expects that professions will experience profound change and the level of impact will be comparable to the Industrial Revolution. He said the response will require changes to education and thinking about how to reskill people. But he also cautioned against an ill-informed backlash that could stifle important advances, as he said occurred with gene-editing and nanotechnology.
He went on to bemoan how the UK does a poor job of scaling companies. To mobilise funding, he suggested following Canada's lead and using the UK's huge pension funds to invest in science and technology companies and sharing the rewards of success. On the topic of government funding for R&D he said a 2019 review found that the R&D budgets of some departments had slipped to a fraction of 1%. He told department chiefs that at that level they had inadvertently declared themselves "no-growth commodity companies".
"The easiest part of any budget to cut is the research budget because it doesn't actually make a difference for five years, but then it makes one hell of a difference, and you're stuffed."
Thankfully, departmental R&D budgets have since begun to recover.
Quick fire questions
Asked how more mid-career STEM professionals can be attracted to join government, Sir Patrick, whose career journey spans academia and president of R&D at GSK, said focus on selling the purpose of government work and the chance to make a positive impact on big social issues.
On the importance of regulation, he said if you get it right it supports innovation, noting how during the pandemic the medicines regulator changed how it interacted with industry to help progress vaccines development.
Lord Willetts said early specialisation is the bane of the English education system and that a better model might involve students taking varied A-levels and more of them. Sir Patrick said we should watch out for a "superficial generality" but agreed broader education would help with innovation. He said he had been asked why there isn't an alternative 'politics philosophy and science' course offered in competition to the ever-popular PPE degree. He has since issued the same challenge to university leaders.
Asked for his opinion on the government's 'science superpower' slogan, Sir Patrick responded: "I think the words are not for me, they're for politicians to think about. Do I think that this country ought to be based in large part on being great at science and technology, and that can feed economic growth, societal wellbeing, health and other areas? Yes, I absolutely do. I think it's fundamental."
Watch a recording of the event: https://youtu.be/EJmyOgCvYwk