THE UK's Royal Mail has revealed ten new special stamps which feature "marvels" of British engineering over the last 50 years.
World-class inventions and innovations have had a huge impact on aspects of modern life in a range of areas such as medicine, computing, travel, and infrastructure, says Royal Mail. The company worked with the Royal Academy of Engineering (RAEng) on the stamps, which mark Britain's "long and proud history of engineering excellence".
The stamps pay tribute to inventions such as Raspberry Pi (the best-selling, credit card sized computer which has revolutionised low-cost computing) and the Falkirk Wheel, the world's first and only rotating canal-boat lift.
Also featured are the three-way catalytic converter, pioneered by Johnson Matthey in the early 1980s; superconducting magnets; the Harrier jump jet; the "monumental" Crossrail tunnel-boring project; and a synthetic bone-graft substitute developed at Queen Mary University of London.
Some of the inventions featured in the stamp set are past winners of RAEng's MacRobert Award, the UK's longest-running and most prestigious award for engineering innovation. The MacRobert Award is currently celebrating its 50th year.
Dame Sue Ion, Chair of Judges for the RAEng MacRobert Award, said: "The UK is a global engineering powerhouse with many world firsts developed here that have both benefitted our economy and helped to transform people's lives for the better. This wonderful new set of Royal Mail stamps perfectly encapsulates the technical and commercial achievements made by British engineers over the last 50 years, from the Harrier jump jet to Raspberry Pi. These great British engineering innovations […] represent an amazing foundation from which to develop exciting technologies for the future."
Philip Parker, Head of Stamp Strategy at Royal Mail, said: "British innovation in engineering is world renowned. This stamp issue proudly celebrates the projects and inventions which showcase this, as well as demonstrating the extraordinary range of disciplines that British engineers excel in."
Queen Mary's Karin Hing, who led the team that developed the featured synthetic bone-graft substitutes, said: "It was a delightful surprise and a huge honour for my work on synthetic bone grafts to be recognised with a stamp and, in particular, to be part of a set which celebrates some incredible innovations in British engineering. I feel very fortunate that my research has gone on to have such a positive impact on people's lives, but this would not have been possible without multidisciplinary collaboration. Having our engineering of synthetic bone grafts celebrated on a stamp like the Marvel Comics and the Harry Potter books might even impress my kids."
Hing is a Reader of Biomedical Materials at Queen Mary University and received the RAEng Silver Medal in 2011 for her work.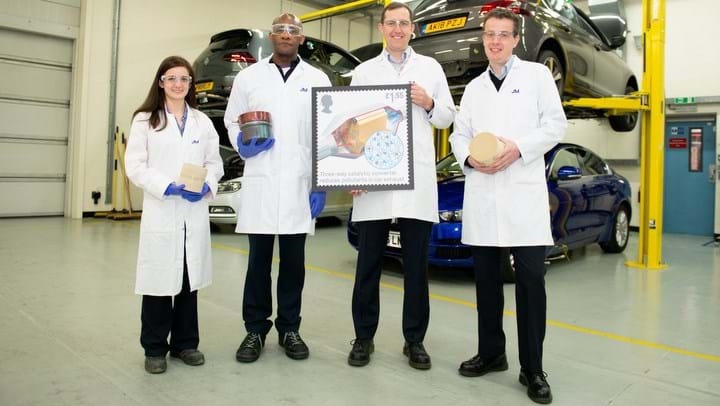 Johnson Matthey
Technology Director at Johnson Matthey Chris Morgan said: "Being recognised with a stamp celebrating British Engineering is a huge honour for employees past and present who have been involved in Johnson Matthey's ground-breaking work behind the catalytic converter. Every year, our catalytic converters prevent some 20 million tons of pollutants from entering the atmosphere, helping to make the world cleaner and healthier."
MacRobert Award winners that were featured in the stamp set are: Raspberry Pi (2017); superconducting magnets (1986); the three-way catalytic converter (1980); and the Harrier jump jet (1969).