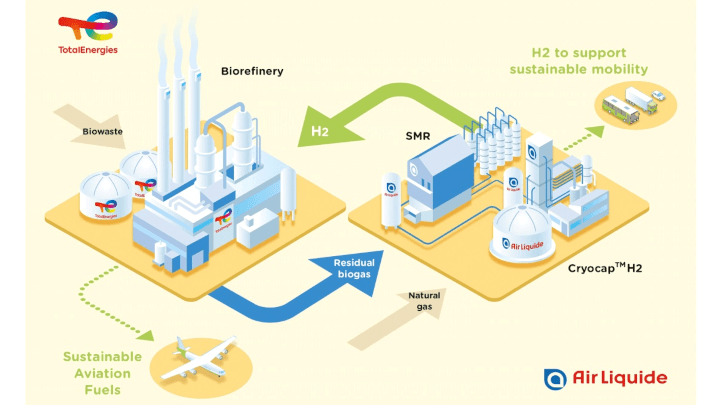 TOTALENERGIES and Air Liquide have partnered to produce and valorise renewable, low-carbon hydrogen, to contribute to greener aviation.  
The partnership is part of the energy company's commitment to transform its Grandpuits-Bailly-Carrois refinery in France's Ile-de-France region, into a zero-crude platform by 2024.
As part of the agreement, Air Liquide will invest more than €130m (US$136.4m) to construct and operate a 20,000 t/y hydrogen unit, that will produce partly renewable hydrogen, generated using residual biogas from a planned TotalEnergies' biorefinery in place of natural gas.
Under the partners' long-term agreement, TotalEnergies commits to purchasing the hydrogen to produce sustainable aviation fuel (SAF). It intends to build a 400,000 t/y biorefinery at its Grandpuits platform which will primarily serve aviation, producing 170,000 t/y of SAF. The hydrogen could also be used to support sustainable mobility in the Ile-de-France region.
The hydrogen unit will be delivered alongside Air Liquide's Cryocap carbon capture technology, which will reduce the Grandpuit platform's carbon footprint by 110,000 t/y. The captured CO2 can then be used for food and industrial applications. Cryocap enables cold capture of CO2 released during hydrogen production via a cryogenic process, which after purification can be used to meet a variety of industrial needs for carbonic gas supply.
The partners expect that their sustainable circular approaches, which are in line with their shared 2050 net zero ambitions, will prevent 150,000 t/y of emissions compared to current processes.