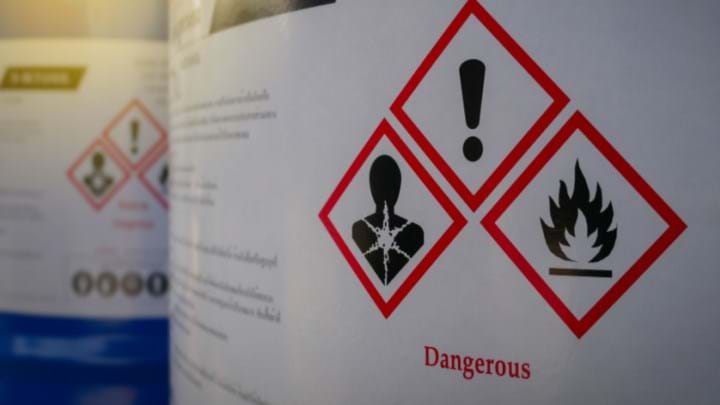 CONCERNS of a widening gap between the EU and UK on hazardous chemical regulation have emerged following the publication earlier this month of UK REACH's priorities for the upcoming financial year. 
Published by the UK's Health & Safety Executive (HSE), the document sets out which restrictions on chemicals will be considered by the UK's equivalent of the European REACH chemicals management system, a regulatory regime the UK left after Brexit. 
In its report, which was produced with input from Defra, the Scottish and Welsh Governments, and other non-governmental organisations, UK REACH identified the following as priorities for consideration: per- and polyfluoroalkyl substances (PFAS); intentionally-added microplastics; formaldehyde and formaldehyde releasers in articles; and bisphenols in thermal paper and hazardous flame retardants. 
However, although various plans to address and evaluate options for the chemicals were put forward, no formal restriction process was triggered for any of them. 
This has prompted campaigners to warn that UK consumers and the environment will have considerably less protection from hazardous chemicals, as the country fails to keep pace with its EU counterparts. 
"Since it left the EU… [the UK] has initiated two restrictions, compared to the five restrictions that have been adopted by the European Commission and a further 20 that are currently in the EU pipeline," said Chem Trust, the organisation behind the research. 
Chem Trust said it has been calling for restrictions on groups of chemicals for many years, to avoid  toxic practices in industry such as companies "moving from one hazardous substance to another" when faced with a chemical being banned. 
The bisphenol group is a prime example of this unwelcome habit, the organisation said. Currently used in food containers and baby bottles as well as thermal paper, bisphenol A is a well-known hormone-disrupting chemical that is now banned in a number of products. However, according to a report by Chem Trust, companies are simply substituting bisphenol A with closely-related bisphenols like bisphenol S (BPS), which could also be potential hormone disruptors. 
Chem Trust also criticised the HSE's slow approach to dealing with other chemicals such as formaldehyde and eight polycyclic aromatic hydrocarbons (PAHs) used in synthetic football pitches and playgrounds. 
Soon to be restricted in the EU, these specific PAHs, which are linked to an increased cancer risk, will not face the same imposed concentration limits in the UK, reports Chem Trust. 
Neither will many other hazardous chemicals that the EU has identified in a proposal it released earlier this year. 
If fully implemented, the roadmap could see an estimated 5,000–7,000 chemicals banned by 2030 in the EU due to their links with persistence in the environment, endocrine disruption, and cancer-causing properties. 
Lauding the EU's commitment, Chem Trust said the UK should be following suit and taking similar decisive action, instead of tying up an already-stretched regulator in unnecessary "red-tape" and being "increasingly focused on finding reasons for not taking action, citing uncertainties and evidence gaps."  
"The latest UK REACH work programme offers far fewer and weaker protections from hazardous chemicals than its EU equivalent, and at a slower pace. This is due to a lack of capacity to keep step, and less willingness to regulate than the EU – which, we believe, is not supported by the public," said Chloe Alexander, UK Chemicals Policy Director at Chem Trust. "It could result in increased levels of chemical pollution in the UK and the dumping of products on the UK market that no longer meet higher EU standards."