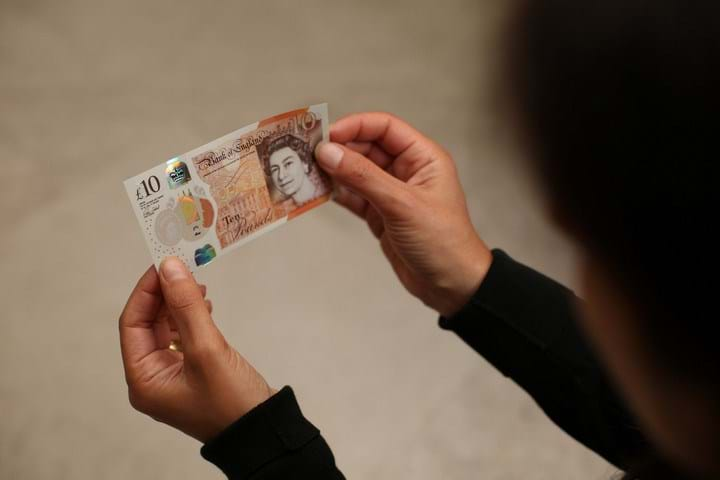 BANKNOTES in the UK will continue to be manufactured using animal-derived tallow, following an investigation by the Bank of England.
Alternatives obtained from vegetable feedstocks will not be used in the new £20 polymer note, nor in future print runs of the £5 and £10 notes, with the Bank citing issues of sustainability and cost.
Its £5 notes, introduced last year, caused concern amongst vegetarians, vegans, Hindus, Sikhs, Jains and others.
The source of controversy was the news that notes contained a trace of animal-derivative tallow, which is used as a slip agent during manufacture. It works as a non-stick 'grease' during production, and also gives the material its final consistency and appearance.
Tallow is created by crushing carcasses, usually from cows, and then subjecting them to pressure to extract the fats from bones, skins and connective tissue. The Bank said in a statement that typically less than 0.05% of each note is ultimately derived from animal products.
Vegetable-derived alternatives, such as from coconut oil and palm oil, can be used for the same purpose during production.
In its investigation, the Bank identified palm oil products as "the only currently viable alternative", and estimated that the cost of switching to palm oil derivatives would be £16.5m (US$21.4m) over the next ten years. This cost would be borne by the taxpayer, and HM Treasury advised the Bank this would not represent value for money for taxpayers.
A statement from the Bank said: "This decision reflects multiple considerations including the concerns raised by the public, the availability of environmentally sustainable alternatives, positions of our Central Bank peers, value for money, as well as the widespread use of animal-derived additives in everyday products, including alternative payment methods."
Tallow is found in a variety of everyday products including plastic bags, make-up, crayons, soap, bike tyres and candles.
The Bank also detailed the results of a public consultation on the matter, which received responses from 3,554 people. Of those who expressed a preference, 88% objected to the use of animal-derived products, while 48% objected to palm oil-derived additives.
It added: "The use of palm oil raises questions about environmental sustainability and the Bank's suppliers have been unable to commit to sourcing the highest level of sustainable palm oil at this time."
A change.org  petition opposing the use of tallow in notes has so far gained 137,000 signatures.
Despite the controversy surrounding the notes and no suitable alternative existing for manufacture of the polymer notes, the Bank is not considering reverting to cotton-paper notes.
It said: "Polymer banknotes deliver significant benefits over paper, particularly when combined with state-of-the-art security features which make the notes much harder to counterfeit."
"Polymer is also stronger than cotton-paper and so notes will last longer, remain in better condition and deliver environmental benefits. The Carbon Trust has certified that over their full life cycle, the carbon footprint of polymer £5 and £10 notes is lower than paper notes," it added.