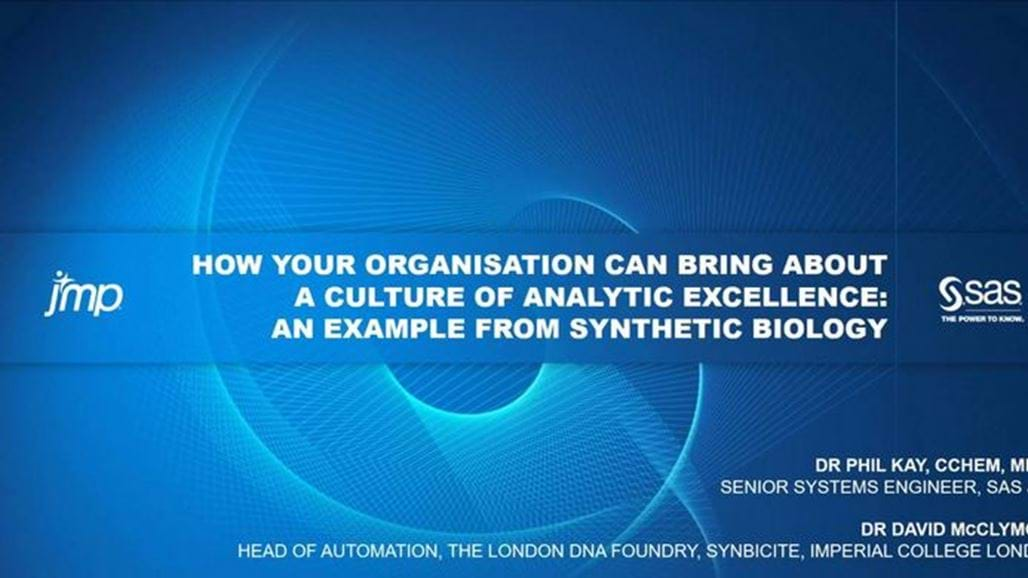 Data analytics is widely recognised as a key tool for modern industry. However, data scientists are a scarce resource. Many organisations recognise that the best way to achieve analytic excellence is to enable their existing engineers and scientists with the skills and tools they require. In this webinar Phil Kay, of SAS JMP, will talk about the characteristics that enable companies to be successful in this journey.
Synthetic biology aims to use engineering principles to design and construct new biological parts, devices or systems or redesign existing natural biological systems. It can be applied across a wide variety of markets and has the potential to solve many of the environmental and societal challenges of this century. The global synthetic biology market is estimated to reach $38.7bn by 2020. However, the complexities are almost infinite. Therefore automated, high-throughput experimentation and data analytics are key. The London DNA Foundry is a robotic core facility, located at Imperial College, which specialises in the design, assembly, verification and functional characterisation of synthetic DNA for academic and industrial clients. David McClymont of The London DNA Foundry, will give an introduction to Synthetic Biology and talk about the tools and methods that they have used to build a culture where statistical modelling is normalised to fulfil the potential of this emerging industry.
22nd September 2017
---
Your details
Enter your details below to view the webinar.
Please note that by registering to attend this webinar you are agreeing that your personal details can be made available to third parties, for the purposes of contacting you to discuss their products and/or services.
Back to Webinars